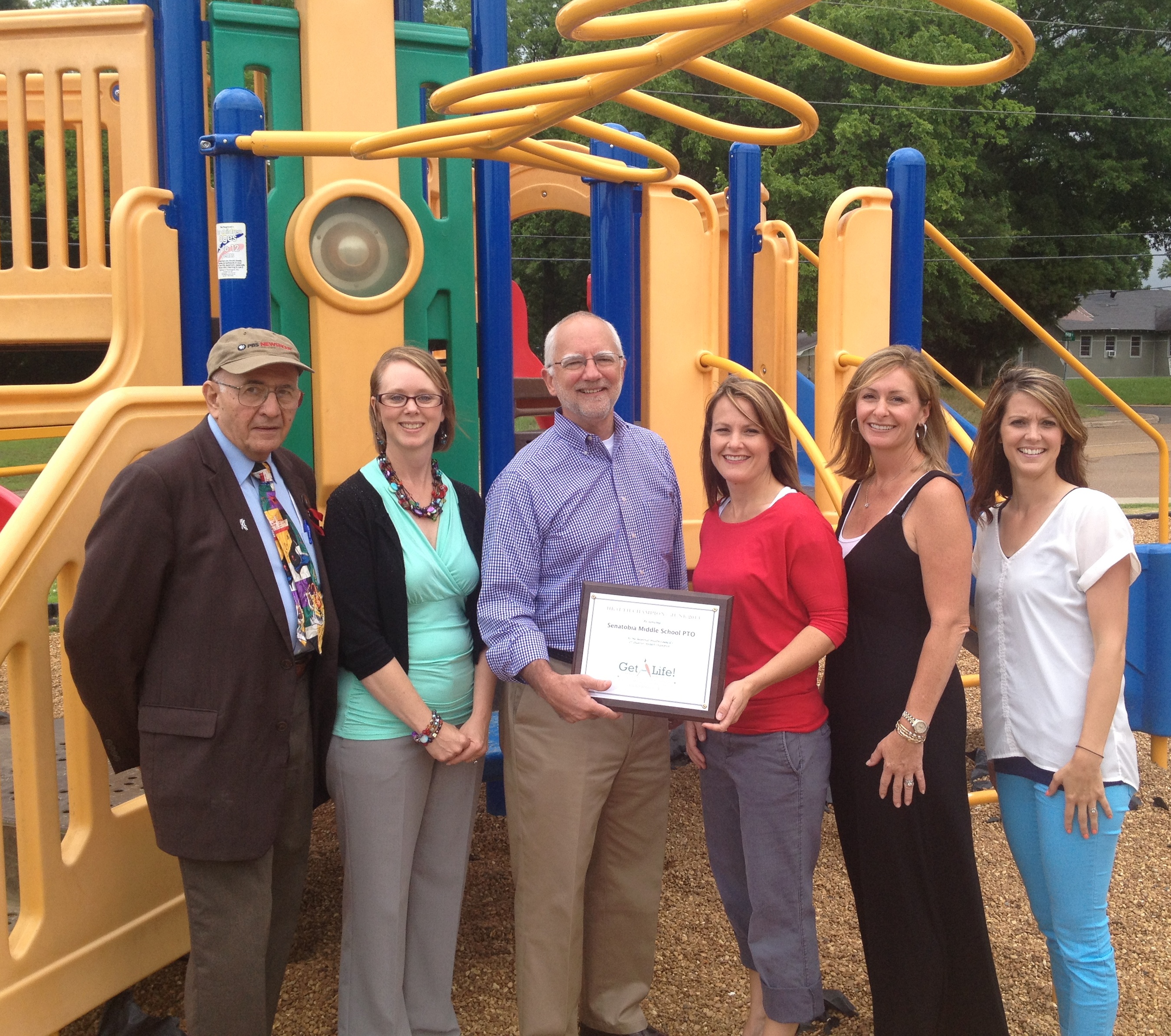 The Regional Health Council, a program of the Community Foundation of Northwest Mississippi and funded through the W.K.Kellogg Foundation, was pleased to award its 2nd quarter Health Champion Award to the Senatobia Middle School PTO. 
The PTO members started the Warrior Run/Walk Club, which was hosted three times a week for students.  3rd, 4th, 5th, and 6th graders completed a total of 1,527 miles!  They also hosted family fun runs, after school runs for students, involved with Jump Rope for the Heart event, organized a 5K, and hosted a school dance for the middle school students. The Senatobia Middle School PTO is comprised of parents and teachers and their officers are Mary Berry, President, Laura Brady and Elizabeth Kairit.
"This is just remarkable!  The miles completed and the amount of youth that participated is definitely worth sharing.  The Senatobia Middle School PTO members set their standards high to achieve this goal and it's a great model for other schools to follow," said George Cossar, Chairman of the Community Foundation of Northwest Mississippi.
Mary Berry came up with the idea of hosting the run/walk in the mornings and Laura Brady did lots of the leg work to get the program started. Then, Elizabeth Kairit and Coach Brandi Shappley along with Mary and Laura volunteered time to assist the kids each morning for their run.
"But without the youth being so interested in doing this get healthy program, it would have never happened," said Mary Berry, SMS PTO President.
The Regional Health Council is funded by a grant from the W.K. Kellogg Foundation of Battle Creek, Michigan.  The Foundation, established in 1930 supports children, families and communities as they strengthen and create conditions that propel vulnerable children to achieve success as individuals and as contributors to the larger community and society.  For further information on the foundation, please visit www.wkkf.org.
The Community Foundation manages 133 donor-established funds and has distributed $11.2 million to support 420 charitable organizations and activities recommended by its donors, as well as charitable programs established by the foundation.  Established in 2002 with a generous grant from the Maddox Foundation, the Community Foundation is an independent 501.c.3 charitable organization. The Foundation serves Bolivar, Coahoma, DeSoto, Marshall, Panola, Quitman, Sunflower, Tallahatchie, Tate, and Tunica counties.  A board of 20 volunteer civic leaders governs the Community Foundation.  Learn more about the Community Foundation at www.cfnm.org or call 662.449.50002