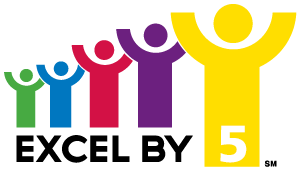 Launched in the Fall of 2004, Excel By 5 is an innovative program designed to encourage and assist communities to become actively involved in supporting their young children. The first of its kind, this certification emphasizes the important roles parents and primary caregivers play in educating children during their most formative years, birth to five.
The project identifies gaps in community resources, promotes community collaboration, volunteerism and economic development. On the whole, we expect children in Excel By 5 communities will be healthier and better prepared for kindergarten and first grade. The success of Excel By 5 is driven by the community and their efforts to meet certification.
The Community Foundation of Northwest Mississippi is supporting the efforts of any Northwest Mississippi community to become an Excel by 5 candidate and certified community.