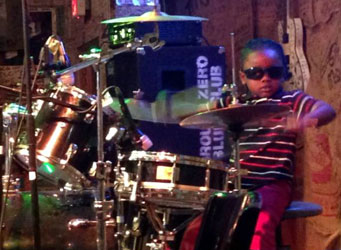 The Delta Blues Museum Arts and Education Program in Clarksdale was announced Monday as a winner of the 2014 National Arts and Humanities Youth Program Award. Twelve community-based organizations that develop learning and life skills in young people by engaging them in the arts or humanities were recognized as winners at a White House ceremony. Five members (ages 8 to 15) of  the Delta Blues Museum Arts and Education Program performed.
The students are a part of the Delta Blues Museum's Arts and Education program, designed to keep the blues heritage alive in the Mississippi Delta. The program was one of 50 finalists for a prestigious national arts and humanities award.
Inside the Delta Blues Museum, a past Community Foundation grantee, in downtown Clarksdale, students 8 to 15 years old are singing and playing the blues…
This jam session is part of the museum's Arts and Education program. Its purpose is to pass the blues tradition on to younger generations says the Museum's executive director Shelly Ritter. 
"They are being taught how to sing and play the blues in the traditional way that blues was handed down throughout the generations—by coming in this classroom and sitting down with instruments and playing"
"We don't go through music theory or anything like that. We have musicians and they just show you how to do it.  And you work with it until you master it."
"Aaron, you ready?"
John Walter Busby is a native of Clarksdale, a full time musician and also an instructor for the young musicians at the Museum.
"They come in here with no idea how to play music, whatsoever and we teach them pretty much any instrument they want to learn.    It's really about getting a new generation of blues players out there.
The success of the program has caught the attention of the President's Committee on the Arts and Humanities. That group decides who gets the National Arts and Humanities Youth Program Award – the nation's highest honor for after school programs that celebrate creativity, especially in under-served communities.  Museum director Shelly Ritter says she's thrilled the program is among the finalists. 
"It's very humbling and makes me so proud of these kids.  I know the talent they have and to be able to give them this opportunity, which they've earned and the instructors.  I'm just very excited and proud of them."
65 students are currently enrolled in the blues classes at the museum. 
Ten year old Aaron Wilkins is one of them.  He loves to sing and play the guitar. 
"I like the feeling, how it feels when I play it. One reason I like it is because my granddaddy plays it around the house a lot.  So it's in my blood too."
Another student in the museum program is 15 year old guitar player Kalil Danford. 
"To me it's a way to escape from any stress that you have or hard work or anything that's bothering you. It's just a way to let everything out and convey your emotions in music. 
Danford says the program has given him the courage to reach for his dreams. 
"I want to be a composer for video games—or participate in a traveling band. Doing this really helps me out."
First Lady Michelle Obama will present the awards to 12 organizations out of the 50 finalists. During the White House ceremony, five of the students in the Delta Blues Museum band will perform.   8 year old Devonta Thornton will be right there strumming his guitar.
It's going to be really fun to meet the First Lady.  I'm going to shake her hand.  We might see the President too. It will be exciting!
Each winner will receive a 10 thousand dollar grant.  If the Delta Blues museum is on that list, program instructor John Busby says….
"I'm going to cry.  I'm going to jump for joy. That's going to be one of the most beautiful moments of my whole life.  It will be incredible if that happens."
With this award and recognition, everyone involved in the program hopes the world will see that the blues is still alive.
Story by Mississippi Public Broadcasting