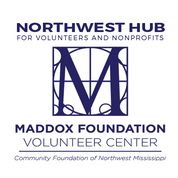 The Maddox Foundation Volunteer Center/Northwest HUB of the Community Foundation of Northwest Mississippi serves to match potential volunteers and nonprofits in eleven counties in northwest Mississippi. The funding partner for the center is the Maddox Foundation.
The center matches potential volunteers and nonprofits operating through Get Connected – an online volunteer management system. Individuals, groups, businesses, and churches can sign on as volunteers, and non-profits can sign on and list their volunteer opportunities. This is the perfect way to match volunteers with potential opportunities.
The Maddox Foundation Volunteer Center /Northwest HUB also offers capacity building workshops for nonprofits. This includes free webinars and low cost in-person workshops.
Follow the Hub on social media!