THE COMMUNITY FOUNDATION GAVE MORE THAN $2 MILLION IN CHARITABLE GRANTS AND PROGRAMS IN 2014.
THESE CONTRIBUTIONS ARE MAKING A DIFFERENCE.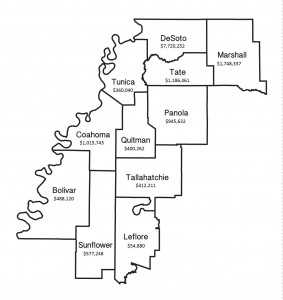 Nationally recognized efforts to increase healthy eating and active living have helped to lower the state's rate of obesity among children for the first time. Hundreds of high school students have learned the facts of financial life to pay for college, protect their credit scores and more. Young children get school supplies their families cannot afford.Youth leaders visit the United Nations. Autistic children receive the most innovative assistance. Students learn to debate and speak in public. Technology brings the world's best educational videos within reach of every student. And so much more.
In 2013, the Community Foundation added Bolivar and Sunflower counties. In 2014, the Foundation added Leflore county to make total giving $16,683,713 since 2002.  
The organized generosity of people who care is making an impact throughout Northwest Mississippi.