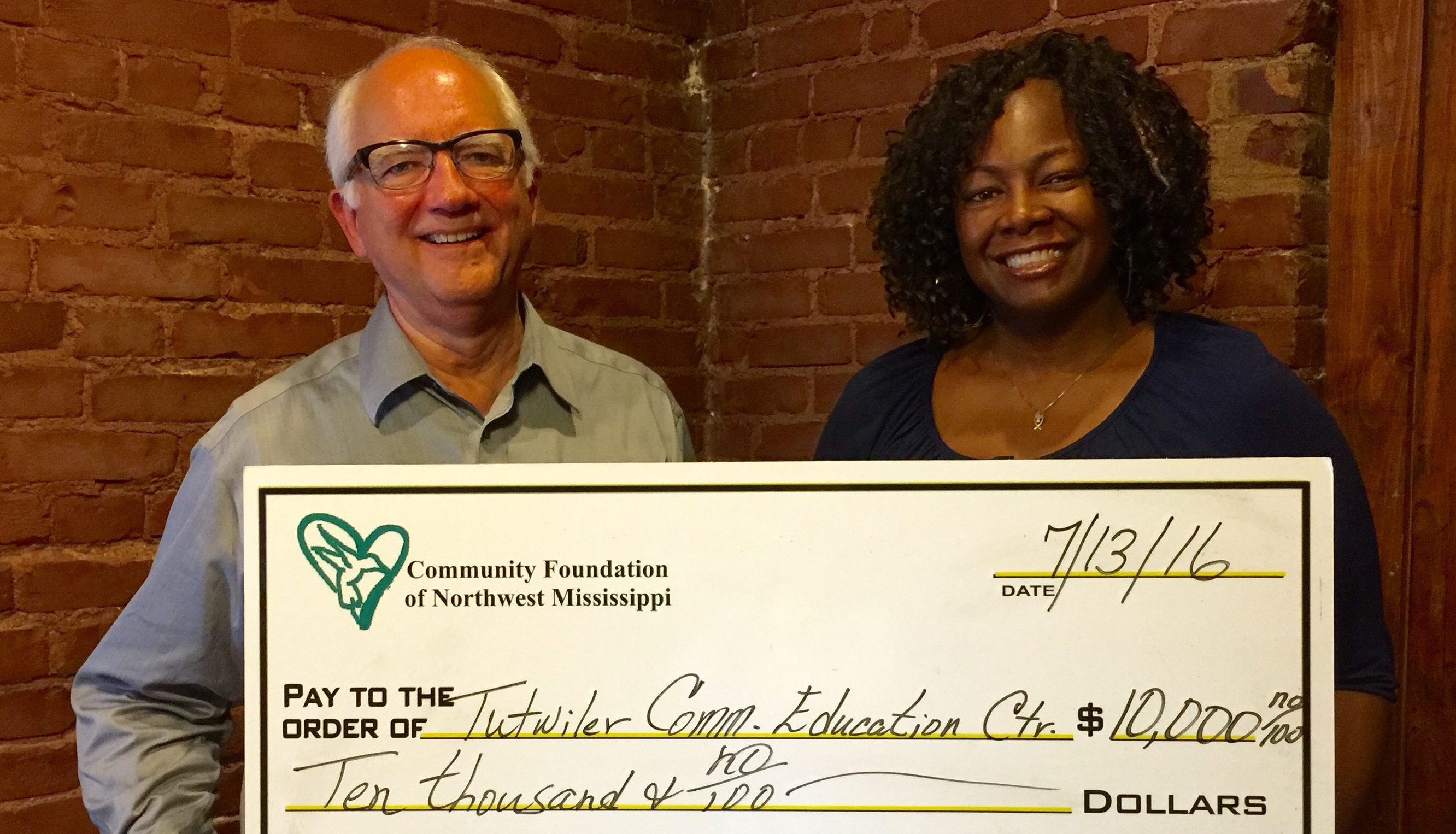 A $10,000 grant was made to the Tutwiler Community Education Center to assist with programming at the Center which includes summer and after school programs, Teen Helper program, and athletic, music and quilting programs. The funds were made available from the North Delta Endowment for Education and Hope at the Community Foundation of Northwest Mississippi. The fund is the result of initial giving from the Holy Order of the Sisters of the Holy Names of Jesus and Mary (SNJM) that was matched by the Phil Hardin Foundation and the Maddox Foundation, showing the benefits of sustained giveing through endowments.
"The Tutwiler Center is a bright spot in Northwest Mississippi, providing education for the whole community. It's been a beacon of compassion and creativity for our region. The Foundation takes pride in helping to continue the work that Sister Maureen has shepherded so faithfully," said Community Foundation President Tom Pittman
In 1987, at the invitation of Sister Anne Brooks, SNJM, D.O., Sister Maureen Delaney SNJM started an outreach part of the Tutwiler Clinic. It was housed in a small room in the back of the Clinic. Because of the many activities and people who wanted to participate, the space very quickly became too small.  It was decided that a "spin off" project from the Tutwiler Clinic be formed. In December of 1989 the Tutwiler Community Education Center was officially incorporated as a non-profit, 501(c)(3) organization in the State of Mississippi.   In September of 1990, with help from a Kellogg Grant and the publicity that emerged when the Tutwiler Clinic and all its activities were featured on CBS network's "60 Minutes," enough money was raised to buy and rehabilitate an old abandoned building in downtown Tutwiler. In June of 1992, the outreach part of the Tutwiler Clinic officially moved into the 10,000 sq. foot, renovated building that became known as the Tutwiler Community Education Center.
Sr. Maureen moved on to a new position at the end of 2015, and Carla Ross was recently hired as the new executive director.  There are ways to become involved and assist the TCEC.  To learn more go to www.tutwilercenter.org.
The Community Foundation manages 217 donor-established funds and has distributed $16.7 million to support more than 420 charitable organizations and activities recommended by its donors, as well as charitable programs established by the foundation.  Established in 2002 with a generous grant from the Maddox Foundation, the Community Foundation is an independent 501.c.3 charitable organization. The Foundation serves Bolivar, Coahoma, DeSoto, Leflore, Marshall, Panola, Quitman, Sunflower, Tallahatchie, Tate, and Tunica counties.  A board of 19 volunteer civic leaders governs the Community Foundation.  Learn more about the Community Foundation at www.cfnm.org or call 662.449.5002.