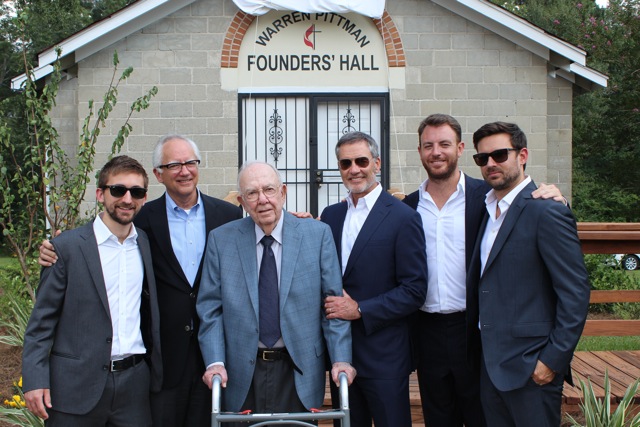 Warren Pittman could not stand to see a church closed.  When he became a Superintendent in the United Methodist Church in 1975, Edwards Street United Methodist Church in his district had six members.  Then the church and parsonage were declared abandoned.
Feeling strongly that the church could be useful to the community, Pittman called a citywide group together to discuss possibilities.  A university surveyed the area and found that a child care center and youth recreation were its greatest needs.
Pittman presented these findings, and in 1978 a local church missions group responded. The ministry born of that group was named the Edwards Street Fellowship Center.
Come forward 35 years.  From that little closed church, today the ministry is centered on the commitment of strengthening families and individuals and meeting special needs in the community.  That community is now 14 counties around Hattiesburg.  There are currently nearly 1,700 active clients, and emergency food is provided to some 1,000 families per month through the fellowship center's food pantry.
Pittman, 92, is now retired in Olive Branch. In honor of their father and in support of Edwards Street's ministry, Warren Pittman's family made a $100,000 gift to establish an endowment in his name to benefit the Edwards Street Fellowship Center. Thanks to a challenge grant from the Maddox Foundation, the Community Foundation of Northwest Mississippi was able to add $25,000 to the Warren Pittman Endowment for Community Ministry.
The little church will hereafter be known as the "Warren Pittman Founders' Hall,'" and continue to be a vital part of the ministry.
The donation was the first significant gift toward a newly announced $2 million endowment campaign to develop a stable economy for Edwards Street Fellowship Center.  The proceeds from the endowment will provide funding to meet day-to-day needs, and form a secure foundation on which to undertake strategic planning and build a realistic future.
Warren Pittman and his family were guests of the Edwards Street Board and friends of Edwards Street in September for an impressive rededication ceremony and reception.
The little church is still in use along with two other newer buildings across the street, plus a vegetable garden, and a walking trail.  These facilities house the administrative center, a food pantry, and program areas of: Girl Scouts, Boy Scouts/Cub Scouts, Adult programs and a Garden project.
Hundreds of volunteers give generously of their time, resources, knowledge, and experiences to sustain the program and services of the ministry.
During his more than 50 year ministry, Pittman served as Superintendent for the Hattiesburg and Brookhaven districts of the United Methodist Church. He pastored churches in Monticello, Centerville, Forest Hill, Hattiesburg, Forest, and in Jackson. Additionally, he served a term as Director of the Mississippi Conference Council on Ministries.
Warren Pittman currently resides in Olive Branch. He is a native of Picayune and shared his ministry with his late wife Lanita Hurdle Pittman of Holly Springs.  Both are graduates of University of Southern Mississippi, and Warren also graduated from Emory University with a Master of Divinity degree.