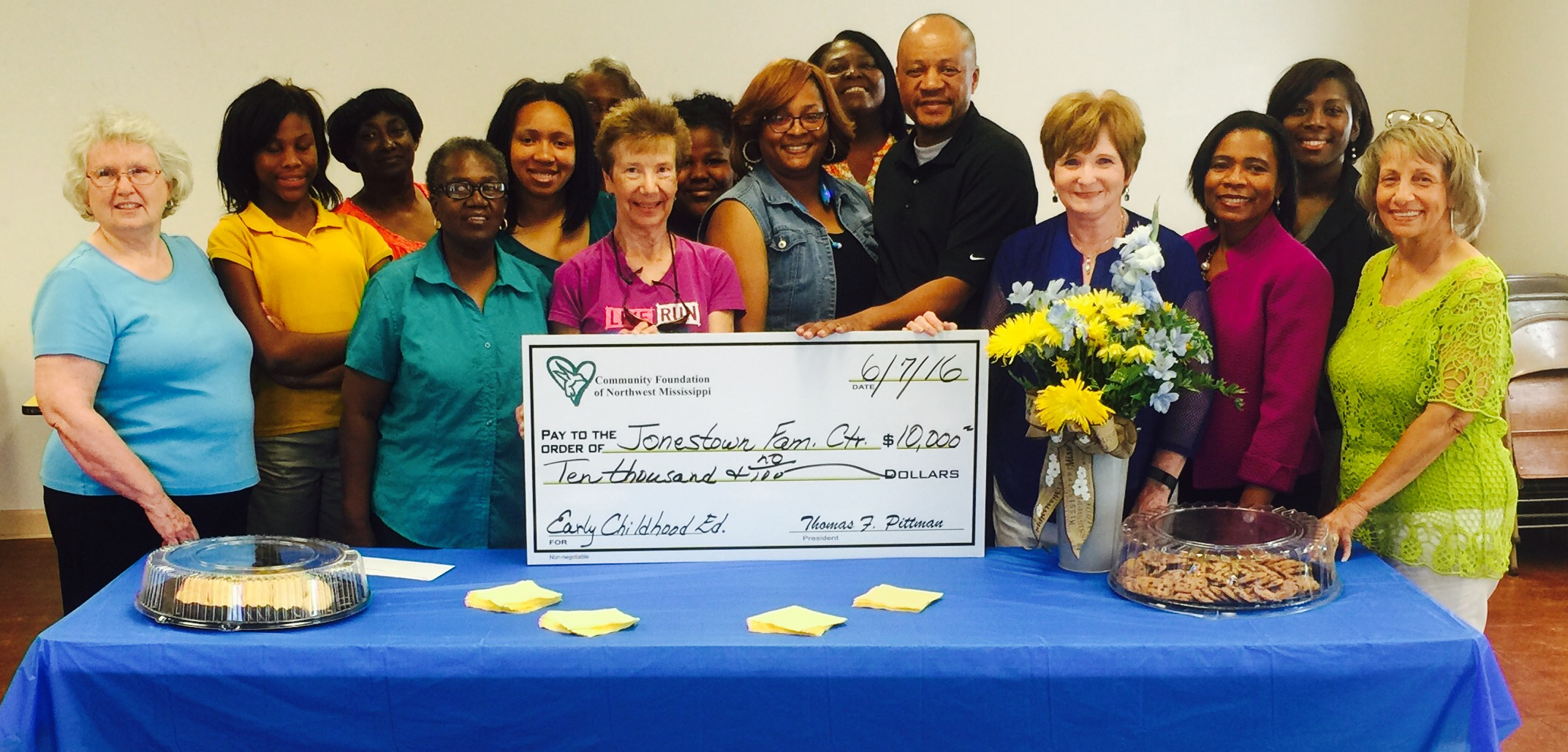 Jonestown, Miss. June 7, 2016– The Community Foundation of Northwest Mississippi presented a check for $10,000 to the Jonestown Family Center for Education and Wellness for its work with early Childhood Education. The giving represents an ongoing grant with the non-profit that serves the local Mississippi Delta community.
The occasion also served to welcome Stan Lang to the role of Executive Director of the Jonestown Family Center. As an area native, Lang brings knowledge of the local area and serves a congregation just miles away in Marks. Lang is as taking on the job as founding executive Director, Sister Teresa Shields, steps down. Sister Teresa will continue her service as Director Emeritus.
The center which has operated in Jonestown since 2001 provides holistic community services by operating physical fitness facilities, early childhood education programming, and after school activities among other things. The Community Foundation began to support the center with grants in 2006. The Phil Hardin Foundation and the Sisters of the Holy Names of Jesus and Mary also established an endowment for the Jonestown Family Center and the Tutwiler Community Education Center to partially support their innovative programs.
The Community Foundation manages 217 donor-established funds and has distributed $16.7 million to support more than 420 charitable organizations and activities recommended by its donors, as well as charitable programs established by the foundation.  Established in 2002 with a generous grant from the Maddox Foundation, the Community Foundation is an independent 501.c.3 charitable organization. The Foundation serves Bolivar, Coahoma, DeSoto, Leflore, Marshall, Panola, Quitman, Sunflower, Tallahatchie, Tate, and Tunica counties.  A board of 19 volunteer civic leaders governs the Community Foundation.  Learn more about the Community Foundation at www.cfnm.org or call 662.449.5002.