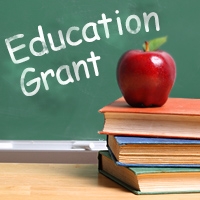 Tom Pittman, President of CFNM presented an Early Childhood Education Endowment grant of $18,000 to Spring Initiative to establish Little Spring.
Accepting the check are co-founders of Spring, (left) Anja Thiessen and Bianca Zaharescu.
The Community Foundation of Northwest Mississippi granted Spring Initiative an $18,000 Early Childhood Education grant to launch Little Spring for first and second grades in August 2017.    Little Spring will be one of four cohorts providing comprehensive, individualized academic instruction and tutoring, mentoring, therapy, exercise, healthy nutrition, and enrichment activities.  The current cohorts include Junior Spring (3rd-5th grades), Big Spring (6th – 8th grades) and Spring UP! (9th – 12th) grades.  College Spring, for Spring's recent high school graduates who are in college, provides the support that ensures Springsters have the academic, emotional, and logistical resources to graduate from college.  An additional program under Spring is Baby University, a 20-week intensive parenting program for expecting parents and families with children three years old and younger.
"We are so grateful for this generous grant", said Anja Thiessen, co-founder.  "It is a crucial step in starting Little Spring – something we have hoped to have the funds to do for several years! We are very excited for fifteen new students to join who will be both selected by the schools and come from families who already have older siblings in Spring. Our students are so talented and are working so hard; and they have been lobbying on behalf of their younger family members for a long time. They cannot wait for them to also be a part of Spring – and we cannot wait to welcome them and be able to work with more wonderful children in Coahoma County. Thank you to the Community Foundation for supporting our Spring's efforts."
Little Spring's goals are to work with fifteen 1st and 2nd graders to improve students' reading levels by at least one grade level during the academic year; improve at least one of their low grades by a letter grade; and ensure that each student receives health interventions, be physically active and learn about healthy lifestyles.  Little Spring will meet each day after school from 3 to 5:30pm with transportation provided.
Spring was founded by Anja Thiessen and Bianca Zaharescu, who were both drawn to Clarksdale through separate Habitat for Humanity trips during high school. The Habitat trips led to multiple, longer-term volunteer stints in Clarksdale, including separate pre-university gap years in 2003 and 2007, during which both women volunteered as teacher's assistants at Sherard Elementary School. Working in the school cemented their respective commitments to help educate and empower Clarksdale's youngest residents, so they went to college to accrue
further knowledge and skills. Anja attended business school in Germany and Bianca completed her degree in African-American Studies and History at the University of Illinois; then the two headed back to the Delta to find that long-term, sustainable way to invest in their newly adopted hometown. Inspired by the promise of the children they had come to know and love, Anja and Bianca joined together to form the first Spring cohort in 2011.
"The Community Foundation is proud to support core early childhood education programs that make an impact in the community", said Tom Pittman, community foundation President.  " It is organizations like Spring Initiative and their programming that assist our foundation with causes that matter."
The Community Foundation through its endowments and donor advised funds has granted charitable organizations in Coahoma County over $690,300 and provided support through programs totaling $515,300.  The Community Foundation manages several funds that benefit Coahoma County including Aspire of North Delta, Boys and Girls Clubs of the Mississippi Delta, Clarksdale Schools' Alumni, Clarksdale-Coahoma County Foundation for Excellence in Education, Delta Ball Fund, Delta Directions, North Delta Endowment for Education and Hope (Jonestown), and several scholarship funds.
Daniel Vassel represents Coahoma County on the Community Foundation's Board of Directors. The Community Foundation manages 235 donor-established funds and has distributed $18.3 million to support more than 420 charitable organizations and activities recommended by its donors, as well as charitable programs established by the foundation.  Established in 2002 with a generous grant from the Maddox Foundation, the Community Foundation is an independent 501.c.3 charitable organization. The Foundation serves Bolivar, Coahoma, DeSoto, Leflore, Marshall, Panola, Quitman, Sunflower, Tallahatchie, Tate, and Tunica counties.  A board of 20 volunteer civic leaders governs the Community Foundation.  Learn more about the Community Foundation at www.cfnm.org or call 662.449.5002.