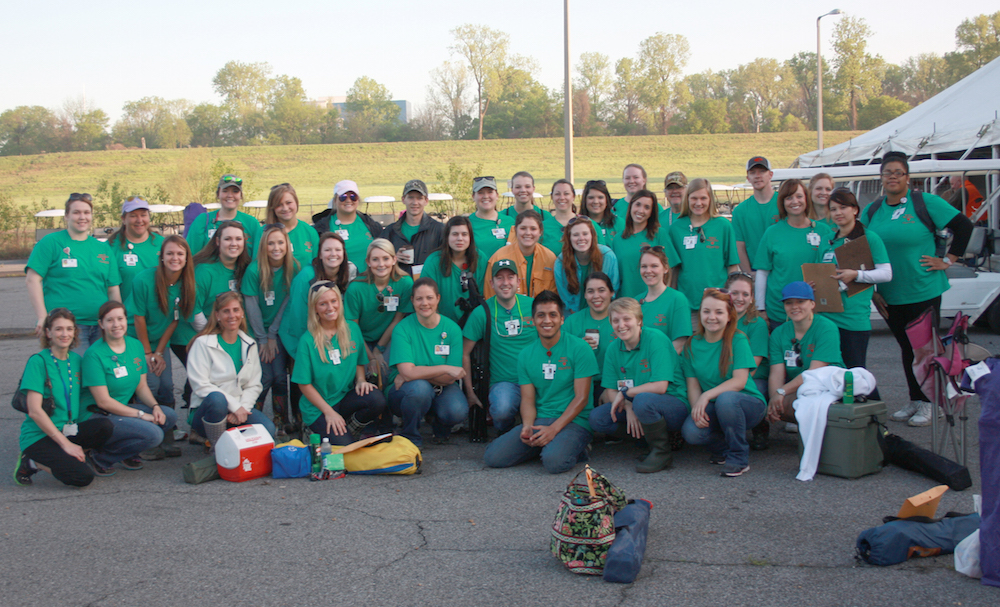 Seventy Northwest Mississippi Community College nursing students and faculty volunteered for the annual sporting clays "Shoot for the Heart" as a way to show their gratitude for the scholarships and equipment they've received over the past five years, thanks to the proceeds from the event. The event, which was held on April 16 in Tunica, has become an annual ritual for Northwest's Division of Nursing.
At this year's event, 400 shooters from the United States and Canada participated in the event. During the event, participants recognized and secretly nominated five Northwest students to receive $500 scholarships from the Community Foundation of Northwest Mississippi for their volunteer efforts at the shoot. The students exemplified helpfulness, positive attitude and personality. Those chosen this year were sophomores Brittany Burchfield Camp of Oxford, Chelsea Moyer of Olive Branch, Hunter Luna of Coldwater, Meri Fortune of Batesville and Apple Walton of Hernando.
In 1999, just one month after Keith Wilson was transferred to Nashville for work, he became a patient at Saint Thomas Hospital and learned that he would need open-heart surgery. After a successful surgery and intensive rehabilitation, Wilson returned to work and normal daily activities. Having to undergo major cardiac surgery is an extremely difficult experience, but for Wilson, it was also a defining one. He wanted to express his gratitude to Saint Thomas's dedicated staff in a way that would allow other heart patients to receive the same expert care he did. An avid sporting clays enthusiast, Wilson organized and led a sporting clays tournament in April 2001, inviting the support of his local sporting clays teams, friends and coworkers.
In addition to benefiting the Northwest Nursing Division, countless cardiac patients have been served through the generosity of its sponsors and participants. Five years ago, tournament organizers recognized that Northwest is increasing the number and quality of nurses to care for cardiac and other patients more effectively. Fundraising events like Shoot for the Heart provide the kind of equipment, instruction and scholarships needed to prepare these nurses for health care leadership in Northwest Mississippi.
"We are thankful to be a part of this event. We enjoy the time we are helping with the shoot and certainly appreciate the benefits on behalf of our students. The majority of the money given to the Nursing Division has been endowed for future scholarships. We recently presented our former dean Dr. Ellen Williams with a Nursing scholarship named in her honor. She was Dean of the Nursing Division when Shoot for the Heart teamed with the nursing students. We will also once again give scholarships to the LPN-RN Transition students that will start this summer," said Dr. Denise Bynum, division director of Nursing.
Submitted to HottyToddy.com by NWCC Nursing Division.
Shoot for the Heart is a fund under the Community Foundation of Northwest Mississippi.  For more information, call 662.449.5002.