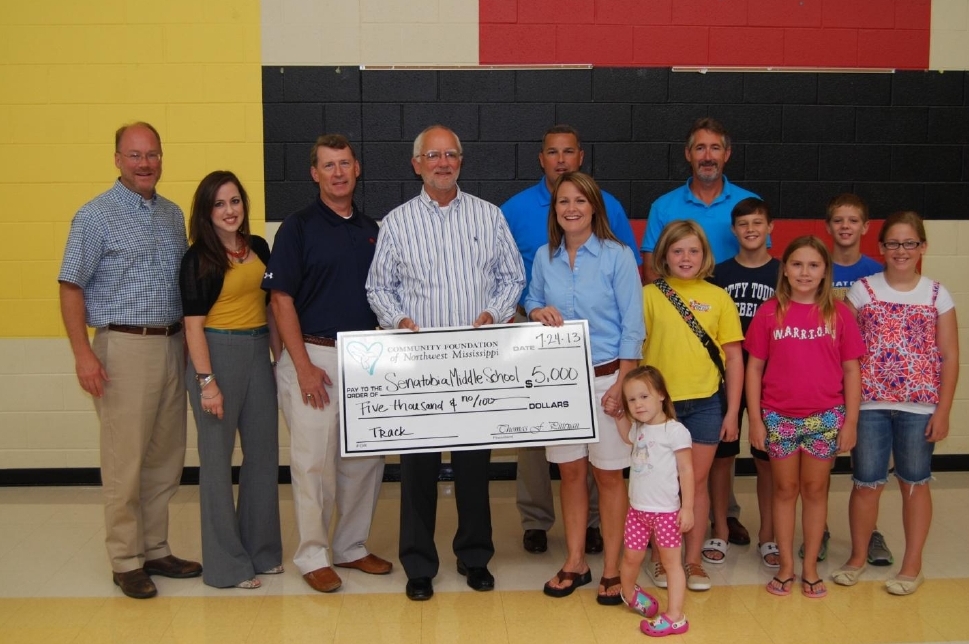 The Community Foundation of Northwest Mississippi granted Senatobia Middle School $5,000 toward construction of a new track.  The grant funds came from Healthy Kids Healthy Communities, a program of the Robert Wood Johnson Foundation.  The program helps communities reshape their environments for healthy living.  
The Senatobia Middle School Warrior Run/Walk Club currently uses an open field for activities.  The mud, grass, and hills create a safety issue for students and teachers.  The track will make a better environment for the schools and the community.  The community will be able to use the track when the schools are not utilizing it. Right now, Senatobia High School doesn't even have a facility to practice. 
"We appreciate the students at the middle school who led to the middle school being named a Health Champion by our Regional Health Council. The students are leading the way," said Tom Pittman, Community Foundation of Northwest Mississippi President. "We are pleased to support their efforts with funding for a track that can also become a community resource."
Senatobia Middle School has made physical fitness a priority.  Senatobia Middle School 3rd, 4th, 5th, and 6th graders ran or walked a total of 1,527 miles this past school year!  The PTO hosted family fun runs, after school runs for students, involved with Jump Rope for the Heart event, organized a 5K, and hosted a school dance for the middle school students. The Senatobia Middle School PTO is comprised of parents and teachers and their officers are Mary Berry, President, Laura Brady and Elizabeth Kairit.
Mary Berry came up with the idea of hosting the run/walk in the mornings and Laura Brady did lots of the leg work to get the program started. Then, Elizabeth Kairit and Coach Brandi Shappley along with Mary and Laura volunteered time to assist the kids each morning for their run.
"We are extremely grateful for the money granted.  It will provide our youth with the opportunity to be more physically active.   We look forward to breaking ground on Senatobia's first and much needed track," said Mary Berry, Senatobia Middle School PTO President.
The Community Foundation manages 133 donor-established funds and has distributed $11.2 million to support 420 charitable organizations and activities recommended by its donors, as well as charitable programs established by the foundation.  Established in 2002 with a generous grant from the Maddox Foundation, the Community Foundation is an independent 501.c.3 charitable organization. The Foundation serves Bolivar, Coahoma, DeSoto, Marshall, Panola, Quitman, Sunflower, Tallahatchie, Tate, and Tunica counties.  A board of 20 volunteer civic leaders governs the Community Foundation.  Learn more about the Community Foundation at www.cfnm.org or call 662.449.50002