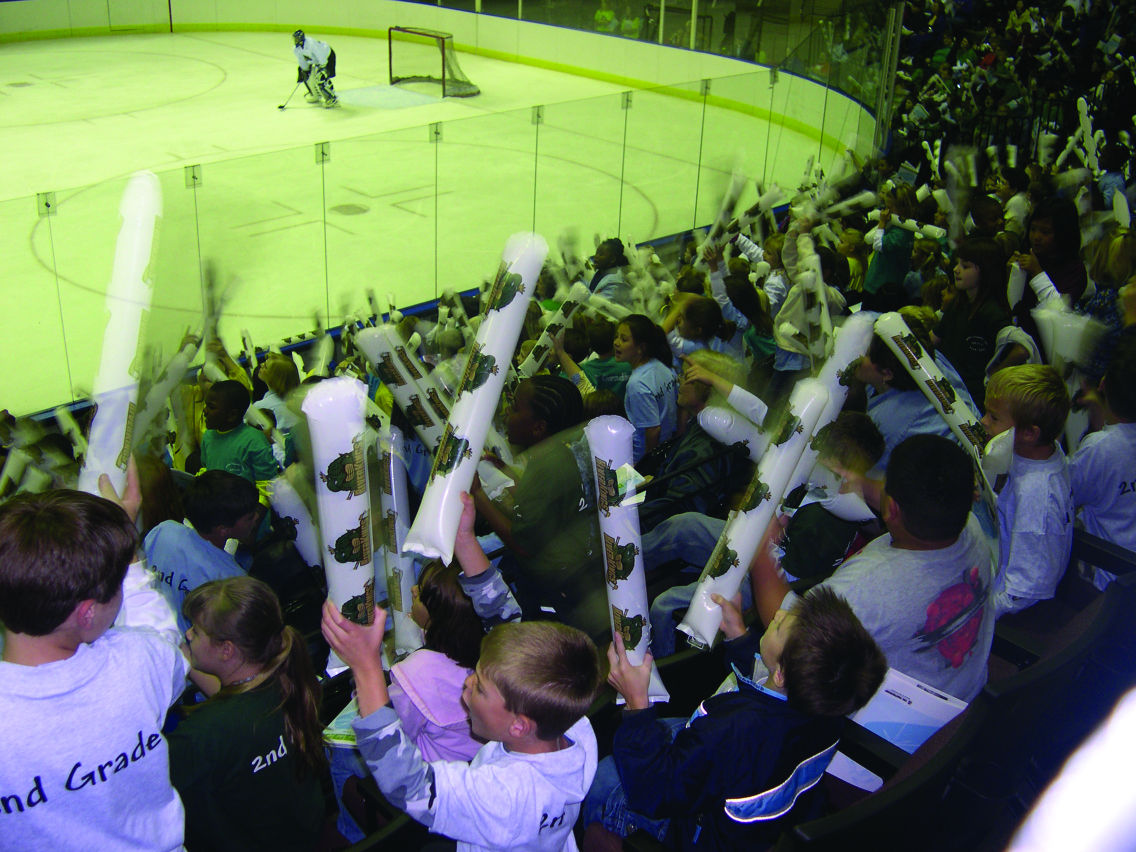 The Mississippi RiverKings have created a legacy of giving back to the greater Mid-South community in the decade and a half since moving across the state line from Memphis into Mississippi's fastest-growing county.
The RiverKings, the longest continually operating sports franchise in the greater Memphis area, has reached a major milestone, eclipsing the $500,000 donated mark through their donor-advised fund at the Community Foundation of Northwest Mississippi during the 2014-15 season.
"Since moving to DeSoto County in 2000, the RiverKings have proved to be an important contributor to the region's economy and entertainment," said Tom Pittman, President and CEO of the Community Foundation of Northwest Mississippi.
Behind the scenes in the everyday life of the community, the professional hockey organization has given back in countless ways, from anti-bullying efforts to promoting literacy and learning through its Face-Off Field trips at Landers Center. Additionally, the RiverKings assist with youth hockey and a host of other charitable activities.
"Less visibly, they have also set an outstanding pace for community involvement and charitable giving," Pittman added. "Not many companies can top this."
The RiverKings' donor-advised fund, better known as the RiverKings ReachOut Fund, was created in 2004 and has provided charitable donations to numerous organizations over the years, extending the RiverKings philanthropic reach in the Mid-South. Non-profit organizations can apply to receive a charitable donation from the RiverKings ReachOut Fund by applying to become the team's MVP Non-Profit of the Night for one game during the 2015-16 season, or by participating in a ticket fundraiser on a night of their choice. More information on the new MVP Non-Profit program is available at riverkings.com/mvpnonprofit.
"The RiverKings have made charitable grants of over $500,000 through their Donor Advised Fund at the Community Foundation of Northwest Mississippi," Pittman said. "They have assisted more than 100 nonprofits that are making our region a better place to live, work and play—large organizations like St. Jude's Children Research Hospital and the Boy Scouts and smaller organizations like Heartland Hands Food Pantry and Stovall's Sacrifice for Soldiers."
The RiverKings raise funds for the RiverKings ReachOut Fund through post- game jersey auctions, donations from the team's loyal fans and through other events during the year.
"It's hard to beat the RiverKings giving back to their community," Pittman said. "The good thing is that anyone can assist with a contribution to the RiverKings Donor Advised fund at the Community Foundation through an online donation at www.CFNM.org or by calling 662.449.5002 or mailing a check to 315 Losher St., Hernando, MS 38632."
Robert Lee Long is Community Editor for the DeSoto Times-Tribune. He may be contacted at rlong@desototimestribune.com or at 662-429-6397, Ext. 252.