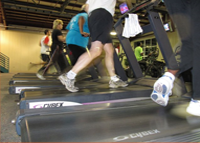 Tunica and Quitman Counties have something in common…they are working toward a coordinated  health strategy that will bring together patients, physicians and practitioners, with community groups and churches.  The goal is to assist the patient in achieving prevention and health management goals resulting in healthier communities.  The Community Foundation is funding this work thanks to support from the W.K. Kellogg Foundation and the Robert Wood Johnson Foundation.
Dr. Gene Osborn is coordinating 'Partners for Health' in Tunica County.  The Community Foundation led the first health assessment for the county in 2014.In County Health Rankings for Mississippi's 82 counties, Quitman ranked 82nd and Tunica ranked 74th.
Dr. Ellen Jones is continuing the work in Quitman County resulting from their 2015-16 Health Needs Assessment.   Among the needs shared were lack of dental and mental health care, more health education opportunities and access to physical activity facilities.
The results of the strategic planning in Tunica and Quitman Counties will be shared in each community through continuing funding from the Robert Wood Johnson Foundation with the goal of linking residents to clinical care to stay healthy.
Assisting in the health projects is Dr. Catherine Woodyard, director of the James C. Kennedy Wellness Center in Tallahatchie County.  Dr. Woodyard is working on a community clinical linkage program in cooperation with the State Department of Health.   She led the development of the Community-Based Comprehensive Health Needs Assessment for Charleston in 2013 funded by the Community Foundation and is hosting the Regional Health Council established by the Community Foundation.