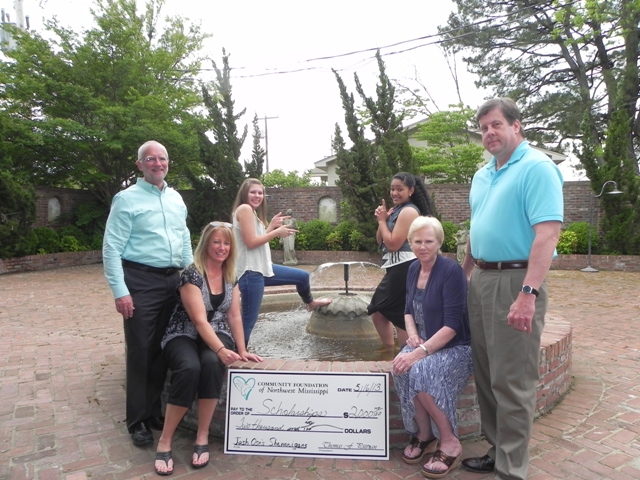 Kristen Black and Anna Johnson each received a $1,000 scholarship through the Josh Ose Scholarship Fund managed by the Community Foundation of Northwest Mississippi.  They are seniors at Hernando High School and each has chosen their university:  Black will attend the University of Mississippi and Johnson will attend the University of South Alabama. 
The Josh Ose Scholarship Fund was established in memory of John Ose, son of Ross and Sissy Ose of Hernando.  In December 2008 while a senior in high school, Josh made the decision to join the Marine Corps.  At that time he thought of his future and set goals to accomplish.  Those goals were to join the Marines, complete boot camp, defend our country in the ongoing war, and return home a Hero.  Josh later graduated from Hernando High School in May of 2009.  On August 10, 2009, he left for boot camp and began the completion of the first of his four goals he had set.  The second goal was accomplished when he completed 3 months of intense training during Marine boot camp at Parris, Island, SC.  On September 3, 2010 Josh deployed to Afghanistan serving alongside seventeen fellow Marines and engaged in battle.  This marked the completion of this third goal.  On September 20, 2010, he became a Hero to us all.  His life and goals were then complete.
"An education or a trade is necessary to advance in today's society", said Sissy Ose.  "Through donations to the Josh Ose Scholarship Fund from friends and family, we were able to award two scholarships this year.  We hope to continue this for many years."  (Ose). 
"This scholarship is important as a memorial to a fine young man from our community who lost his life on a foreign battlefield," said Community Foundation President Tom Pittman. "We are proud to manage the scholarship fund so that it can be a blessing to these two young ladies and other young people from our community in the future."
The Community Foundation currently has the unique ability to add a 25 percent matching grant to all of its endowments of $50,000 or more. A challenge grant from the private Maddox Foundation enables the Community Foundation to add this 25 percent to donors' endowments until the end of 2013 or the challenge of $9 million is met.
The Community Foundation manages 133 donor-established funds and has distributed $11.2 million to support 420 charitable organizations and activities recommended by its donors, as well as charitable programs established by the foundation.  Established in 2002 with a generous grant from the Maddox Foundation, the Community Foundation is an independent 501.c.3 charitable organization. The Foundation serves Bolivar, Coahoma, DeSoto, Marshall, Panola, Quitman, Sunflower, Tallahatchie, Tate, and Tunica counties.  A board of 20 volunteer civic leaders governs the Community Foundation.  Learn more about the Community Foundation at www.cfnm.org or call 662.449.5002.