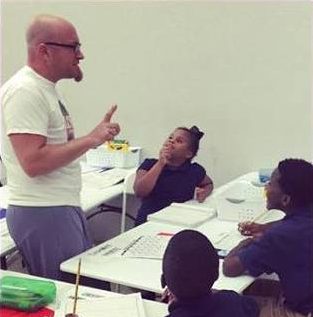 Lamont was living with five siblings  in an impoverished single-parent home when he followed his brothers to C2k ministries in Mound Bayou. After joining the afterschool program, Lamont's struggles with academics were exposed. He was a third-grader still struggling with  reading, writing and basic math.  Gradually, Lamont developed a trusting and loving relationship with the staff at C2k, and they began together down the difficult road of helping him catch up academically.
Now in the fourth grade,  Lamont reads, writes, and does math so well that he leads other fourth-graders in their rocket math assessments. C2k attributes Lamont's professed love for God and his academic leaps to building a loving "son" relationship through the programming, home visits, and working with schools. When C2k leader Phil tells Lamont he is proud of him for the hard work that has paid off, Lamont replies, "Yeah…but I had to change my attitude."
The Community Foundation was happy to award a grant of $7,500 from its Endowment for the Future of Northwest Mississippi to C2k Ministries.  This non-profit organization started 14 years ago as an outreach of the founders, Phil and Kym Schank, traveling twice a year from Wisconsin to Mound Bayou to volunteer.  These visits allowed them to see the real needs of the community, especially the needs of the youth.  The Schanks moved to Mound Bayou in 2013 so they could provide a permanent and stable haven for the children they were serving and had grown to love.  The mission of C2k Ministries is to provide a safe place for kids to learn, grow, and mature, by providing help in education, health and wellness, and biblical study.
To donate to C2k ministries, click here.