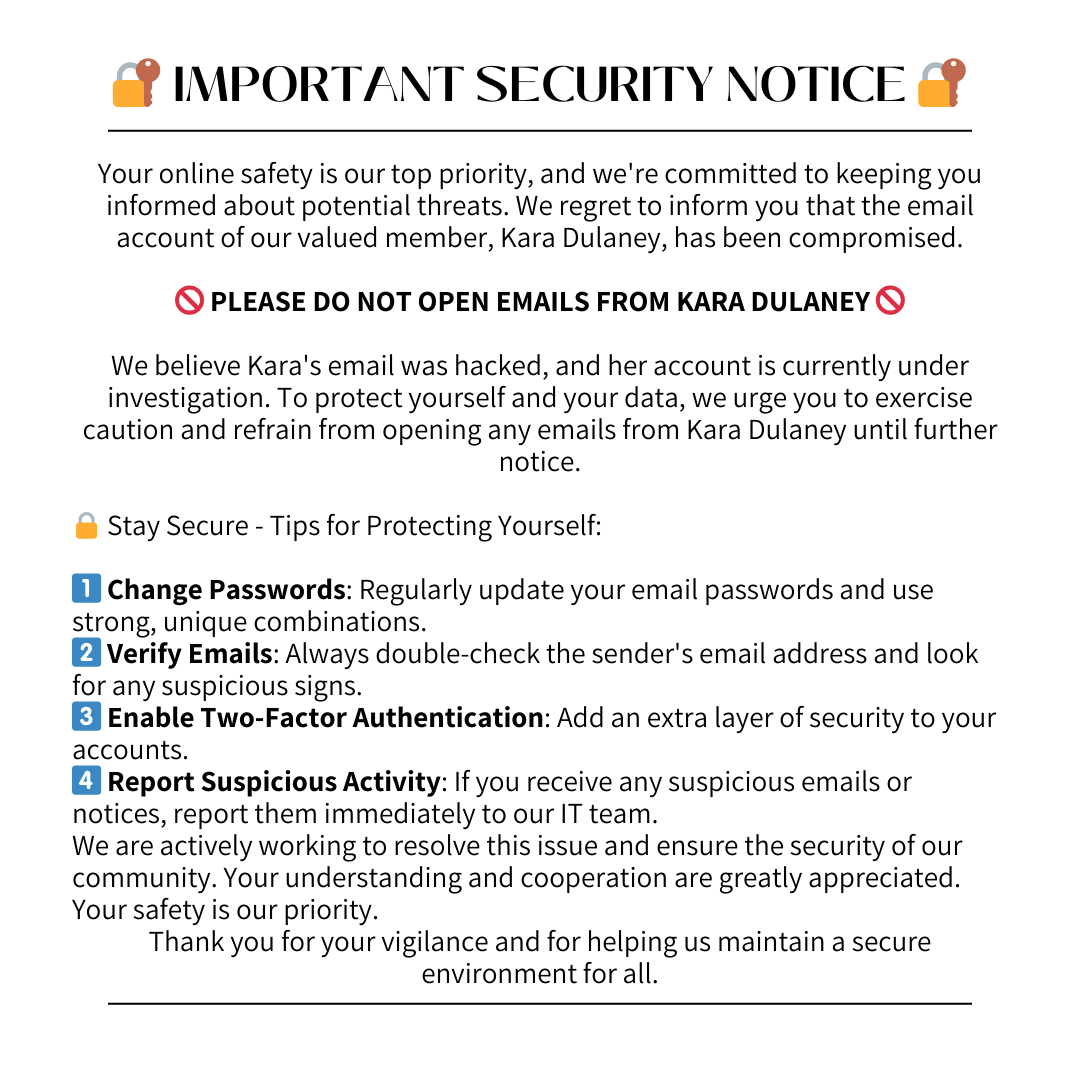 UPDATE: We're pleased to inform you that Kara's email has been thoroughly vetted, and any incoming emails from her are now considered safe.
In our ongoing commitment to ensuring a secure digital environment, we urge everyone to exercise vigilance when utilizing technology. If you come across any suspicious activity that looks like it came from us, we encourage you to promptly report it and let us know.
Our unwavering goal is to foster a community that is not only better but also safer for all its members. Your diligence in this regard is greatly appreciated.
–
Your online safety is our top priority, and we're committed to keeping you informed about potential threats. We regret to inform you that the email account of our valued member, Kara Dulaney, has been compromised.
PLEASE DO NOT OPEN EMAILS FROM KARA DULANEY
We believe Kara's email was hacked, and her account is currently under investigation. To protect yourself and your data, we urge you to exercise caution and refrain from opening any emails from Kara Dulaney until further notice.
Stay Secure – Tips for Protecting Yourself:
1️⃣ Change Passwords: Regularly update your email passwords and use strong, unique combinations.
2️⃣ Verify Emails: Always double-check the sender's email address and look for any suspicious signs.
3️⃣ Enable Two-Factor Authentication: Add an extra layer of security to your accounts.
4️⃣ Report Suspicious Activity: If you receive any suspicious emails or notices, report them immediately to our IT team.
We are actively working to resolve this issue and ensure the security of our community. Your understanding and cooperation are greatly appreciated.
Your safety is our priority.
Thank you for your vigilance and for helping us maintain a secure environment for all.