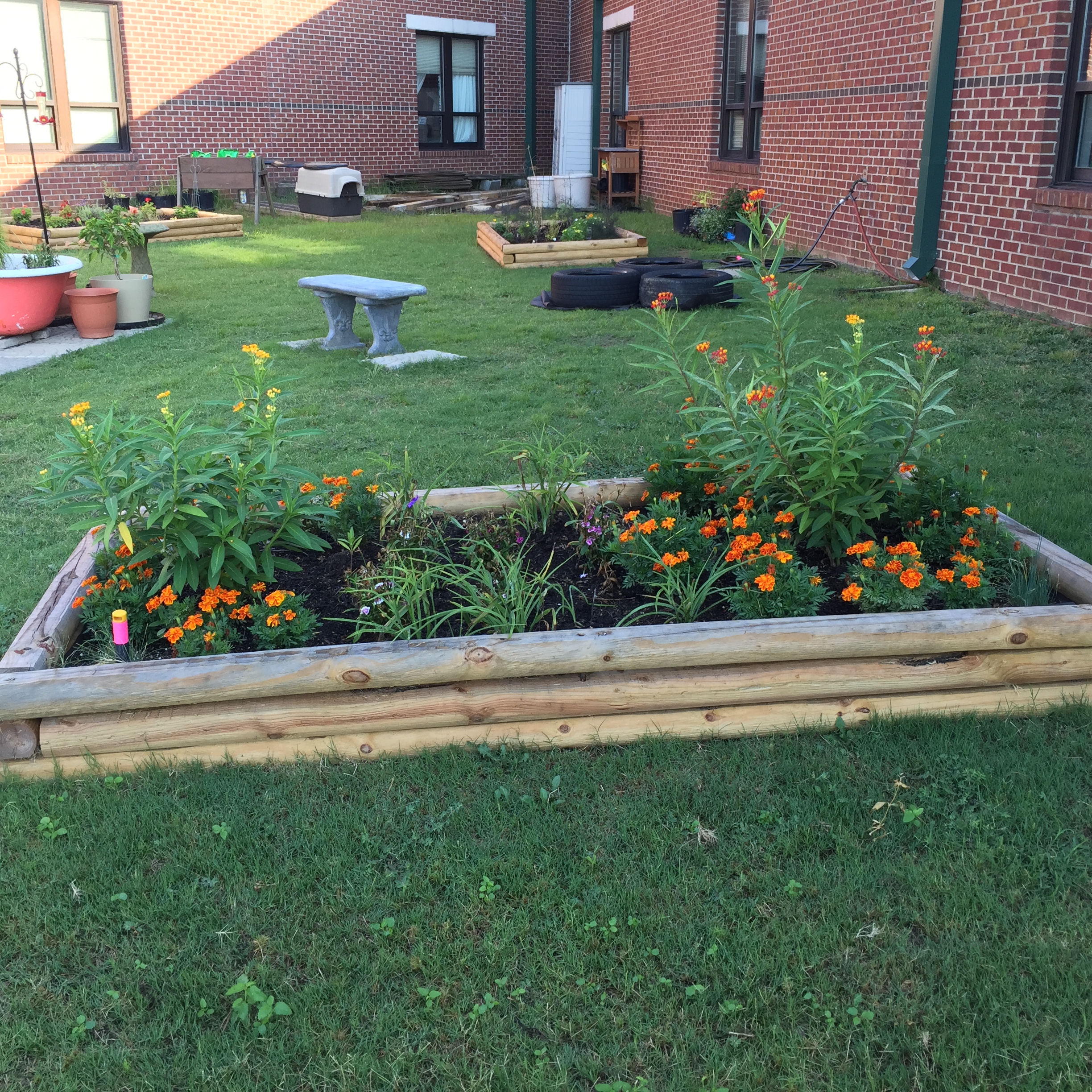 Drive up to Pleasant Hill Elementary School in DeSoto County and you might think it is just another elementary school.  But, drive around the school and you discover a world of outdoor learning.   The school, with the support of the administration, offers outdoor learning which translates to 'real world' lessons.  Teachers like Susan Powell, Jennifer Smith, Susan Taylor, Stephanie Case and Todd Willis, just to name a few, have branched out (literally) of the classroom to teach.
4Rivers Fresh Foods, through a Placed-Based Education grant from the Community Foundation of Northwest Mississippi, granted funds to each of these teachers to establish and/or expand their outdoor classrooms.  The projects vary in design and teaching tools, but the end result are happy children ready for the challenge everyday.  As you make that drive around the school you will see cows (or new 3rd grade students as they are called), goats, happy, muddy pig, chickens (slug patrol) and rabbits.  Can you imagine the children who have the opportunity to 'check-out' a piglet (with bottle) for the weekend?
You will find a new pond with tilapia, a butterfly garden, insect discovery station (thanks to California Ag), and soon to be added, carrier pigeons.  If a student, for instance, goes to Jackson, they can carry a pigeon and release it, with the expectation that it will find its way back to Pleasant Hill Elementary School.  Students also take part in the study of the eggs, taking them from embryo to baby chick, caring for them all the way through this process.
Look around and you will see bucket upon bucket of tomatoes plants, flowers, squash, peppers, and cotton.  In fact, there one row dedicated to Mississippi native plants.  What better way to learn and discover about your own state?  Real world math is made (cooked) in Todd Willis' Math Kitchen.  To quote Willis; "Our students cook everyday."  What do they cook?  Just look outside his classroom window, or better still, climb out his window onto the wood deck and right into the garden area.  Todd explained that he sends six students at a time outside to carry out their assigned tasks within the garden and livestock area.
In the summer there is a three-week Math and Science Camp.  The planting of crops, the butterfly garden, etc. are not only for looks, they are a unique teaching tool for math and science.  The students are able to pick the 'fruits of their labors' and gain a better understanding of why and how we need to grow our own food.  For instance, the planning and growing of peas is a Measurement/Planting Lesson.  Can you imagine getting fresh strawberries from the garden for 'good behavior'?  Theses students can and do.
The dedicated teachers in this project have received assistance from local Master Gardeners, parents, grandparents, a local church, and other interested parties.  The work is contagious!   The students have celebrated outdoors with Belles and Beaus Garden Party and a trip to the Spring River in Arkansas to study at the National Fish Hatchery.  Todd explained that the long, raised beds were designed after the Italian gardens following their field trip to Italy.  On the opposite side of the school you will find Ester the Hen and her Eggucation Area.  Students and teachers take special care of Ester and her brood.
Learning can be fun, and Pleasant Hill Elementary School is using agriculture as one tool for teaching.  4Rivers Fresh Foods and the Community Foundation of Northwest Mississippi are proud to have played a small part.