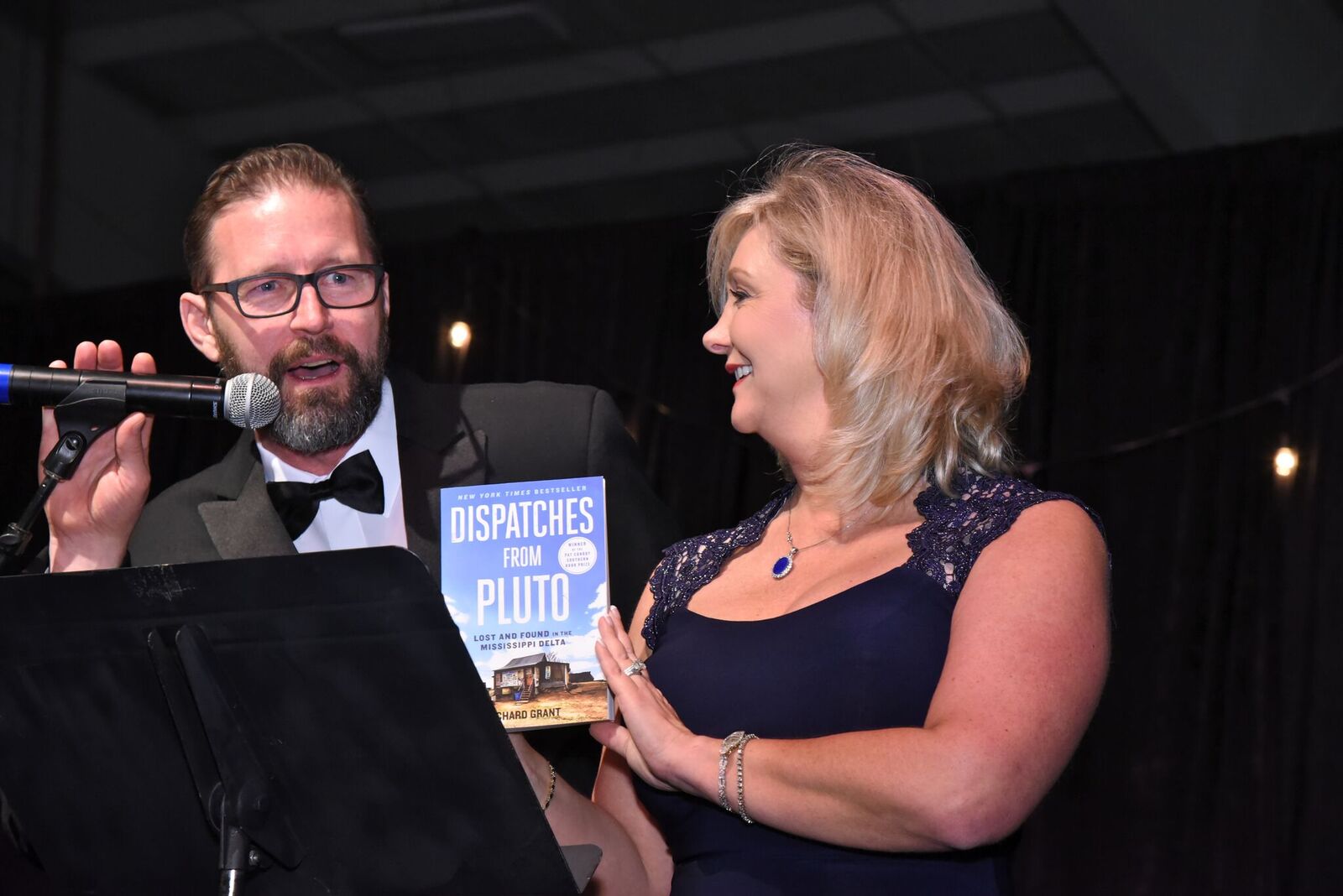 The 17th annual Crystal Ball attracted another sell-out crowd of 1,000 and netted about $150,000 to assist 400 charitable causes through the Community Foundation of Northwest Mississippi.  The black-tie gala with a vintage French circus theme honored local Community Stars and the author of a prize-winning, best-selling book about the Delta on Jan. 21 at the Arena in Southaven.
"We are thrilled by the support from our 11-county region," Community Foundation chairman Scott Coopwood said. "It allows us to make charitable grants, link volunteers with nonprofits, and provide training to increase nonprofits' capacity to serve more people more effectively."
Richard Grant, author of Mississippi's best-selling "Dispatches From Pluto: Lost and Found in the Mississippi Delta", was honored as the Star of Hope, the first non-native Mississippian to receive the award following recipients like Archie Manning, Morgan Freeman, Sen. Thad Cochran, B. B. King and former Gov. and Mrs. William Winter.
"While the gala had a serious purpose, it was a lot of fun with the transformation of the Arena into a 'midway' of aerial silk artists, carnival games, cars from pre-1910, cotton candy signature drinks, and much more," said Community Foundation president Tom Pittman. "Guests enjoyed a delicious dinner topped off with hand-made macaroon cookies. All of it was planned and conducted by a committee of 75 volunteers, chaired by Scott and Natasha Hollis, contributing over 2,200 hours. We can't thank them enough."
A dinner with Richard Grant catered by Taylor Bowen Ricketts in Greenwood along with two nights in the Alluvian Hotel was auctioned for $2,300. The top item in the auction brought $22,000 for four tickets, all-access passes and VIP after-party invitations at the iHeartRadio Music Festival in Las Vegas. Other top auction items included a week for four couples in San Miguel, Mexico, which Conde Nast readers voted the #1 Best City in the World, a day of golf, dinner and VIP clubbing with Morgan Freeman, and tickets to the first NBC TODAY Show outdoor concert, backstage tour and visit with Al Roker and Hoda.
Local Community Stars honored included Bill Clay as the Dan Maddox Man of the Year for his work to prevent gang violence and promote the value of education and healthy lifestyles through the Greenwood Mentoring Group. Dorothy Grady-Scarbrough of Shelby was awarded the Margaret Maddox Woman of the Year for her work to improve rural health through local food farming. The Mississippi RiverKings hockey team earned the Business of the Year for its outreach including visits to schools and hospitals and its contributions of more than $500,000 to local charities. The Spring Initiative of Clarksdale received the Nonprofit of the Year award for its after-school and summer work with at-risk children from birth through high school that has resulted in 100 percent high school graduation rate and 100 percent attending college.
The Crystal Ball was honored last year as the state's Outstanding Fundraising Event at Mississippi's National Philanthropy Day. The Community Foundation of Northwest Mississippi inaugurated an addition
al fundraiser in 2016, the Delta Conversation in Cleveland with Tom Brokaw and NBC News Chairman Andy Lack.
 The Community Foundation manages 235 donor-established funds and has distributed $18.3 million to support more than 420 charitable organizations and activities recommended by its donors, as well as charitable programs established by the foundation.  Established in 2002 with a generous grant from the Maddox Foundation, the Community Foundation is an independent 501.c.3 charitable organization. The Foundation serves Bolivar, Coahoma, DeSoto, Leflore, Marshall, Panola, Quitman, Sunflower, Tallahatchie, Tate, and Tunica counties.  A board of 20 volunteer civic leaders governs the Community Foundation.  Learn more about the Community Foundation at www.cfnm.org or call 662.449.5002.