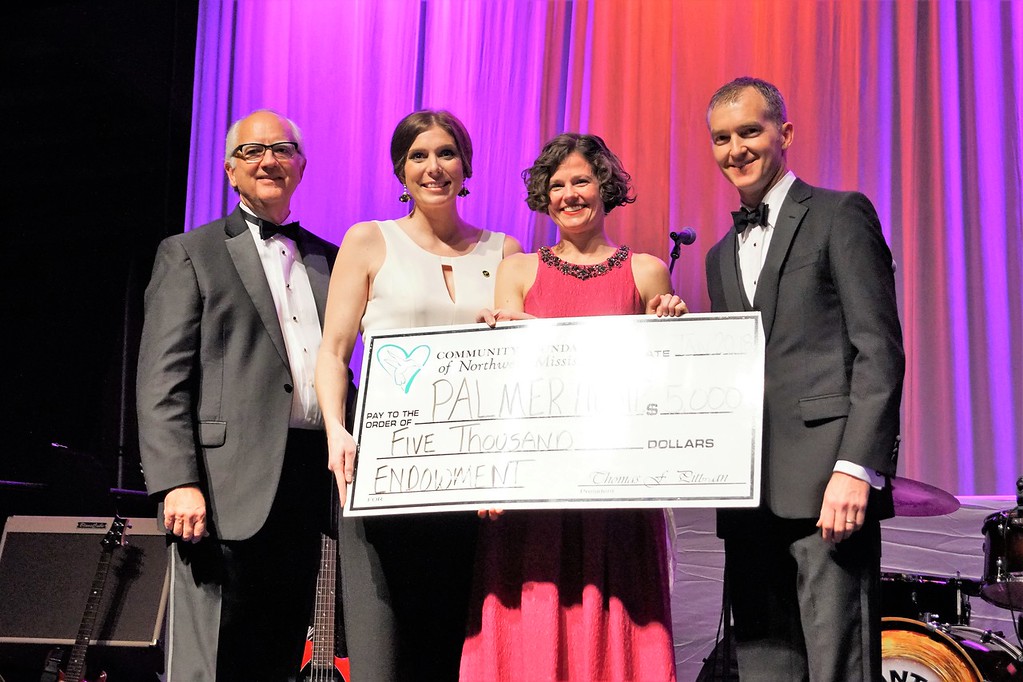 Hernando, MS —The Community Foundation of Northwest Mississippi's 18th annual black-tie Crystal Ball event, held on Jan. 20, had a record-breaking year with a sellout crowd of close to 1,100, 73 sponsors, and the largest live and silent auction.  The "Once Upon a Time: Giving Northwest Mississippi a Happily Ever After" theme showcased beautiful decorations throughout the Southaven Arena including a 15-foot-tall castle, a carriage for Cinderella, a tower for Rapunzel, and incredible lighting.  In addition, there were fabulous food, signature drinks and music by the Dantones.
"The event raised a record-breaking amount of $170,000," said Joe Azar of Batesville, who is the Chairman of the Community Foundation.  "The proceeds from the event help the Community Foundation of Northwest MS annually make close to $2 million in grants, help nonprofits become more sustainable, and connect donors' with causes that matter."
"Over 100 people volunteered over 1,000 hours to help make the event a huge success," stated Co-chairs Emily and Patrick Johnson of Tunica.  "In addition, many restaurants donated meals to feed the volunteers. We were honored to Chair the event, work with incredible volunteers and thrilled by the sponsorship and support from our 11-county region."
This year the Star of Hope honoree was Sela Ward, Emmy and Golden Globe-winning actress who grew up in Meridian, MS.  The "Star of Hope" award recognizes outstanding individuals who have made a lasting impact upon Mississippians through their charitable actions. Ward has appeared in films including "Independence Day: Resurgence," "Nothing in Common," "The Fugitive" and "Gone Girl.  Her TV credits include "Sisters," "Once and Again" and CSI: NY."
"We wanted to honor Sela Ward for her outstanding leadership in Mississippi to help the plight of abused and neglected children," stated Tom Pittman, President of the Foundation.  "She has passion and a vision to lead each child to a place where hope is born which led her to found "Hope Village" in Meridian in 2000.  Hope Village serves more than 200 neglected and abused children each year; the campus consists of an emergency shelter for children, three cottages and two transitional homes for children ages twelve to eighteen. We were honored to have her as our Star of Hope as she epitomizes what this award is all about."
Past Star of Hope recipients include Archie Manning, Morgan Freeman, Marty Stuart, Sen. Thad Cochran, B. B. King and former Gov. and Mrs. William Winter.
The event also honored local "Community Stars" which include The Dan and Margaret Maddox Man and Woman of the Year, Business of the Year, and Nonprofit of the Year.  The Community Star Man and Woman of the Year now carry the names of Dan and Margaret Maddox in tribute to their legacy of service and philanthropy. Together, Margaret and Dan Maddox made a formidable team who devoted their lives to entrepreneurship, adventure, and service. Dan and Margaret died as they lived pursuing, with excellence, their great passions.
The Woman of the Year was Lynda Austin who is a proven leader in the community of Walls and DeSoto County.  Austin was the first woman to serve a Mayor in DeSoto County, served Alderman in Walls, and worked with many other organization including serving as a board member for Historic DeSoto County Museum, DeSoto Arts Council, Community Foundation of Northwest Mississippi, and Mid-South Fair Board.
The Man of the Year was Jaby Denton of Marks.  Denton is passionate about meeting the needs of poor families in Quitman County.  He helped to start the Marks project which now is a model for saving small rural Delta towns.  He and the Board of The Marks Project are making changes in education, recreation and economic development.  He provided 25 acres of his farm to local farmers to grow peas to sell, he and his Board created "The Village" which targets the education of young people beginning with pre-K through high school, and he has worked with several volunteers to redevelop the former grounds of Marks High School to include a walking track, a playground, and youth athletic fields.
The Business of the Year was Fairway Independent Mortgage Corporation in Hernando.  Fairway Mortgage has become a leader in the community through its service to various organizations.
Branch manager Cindy Gordon led the volunteer and fundraising efforts to build a Dog Park in Hernando, helped the DeSoto Arts Council to relocate and renovate to the former City Hall building, and many other community development efforts.
The Nonprofit of the Year is Tri-County workforce Alliance which promotes long-term economic and community development by building a competitive healthy workforce through education and job training.  They serve Coahoma, Bolivar and Quitman counties.  The Alliance has leveraged more than $1.5 million from foundations, local, state and federal government and private sector funds to serve more than 5,000 individuals classified as Future Workforce members.  The High School Mentorship Program in Health Care Professions (9th – 12th grades) and the Academy for Mathematics, Reading and Science for Potential Health Care Professionals (6th – 8th grades), provides opportunities for students to learn about the various health fields and skills necessary.  Over 200 students have graduated from high school and accumulated hours of dual enrollment in community colleges and universities based on the Registered Nurse curriculum.
The Community Foundation manages 235 donor-established funds and has distributed $20.1 million to support more than 420 charitable organizations and activities recommended by its donors, as well as charitable programs established by the foundation.  Established in 2002 with a generous grant from the Maddox Foundation, the Community Foundation is an independent 501.c.3 charitable organization. The Foundation serves Bolivar, Coahoma, DeSoto, Leflore, Marshall, Panola, Quitman, Sunflower, Tallahatchie, Tate, and Tunica counties.  A board of 20 volunteer civic leaders governs the Community Foundation.  Learn more about the Community Foundation at www.cfnm.org or call 662.449.5002.
###