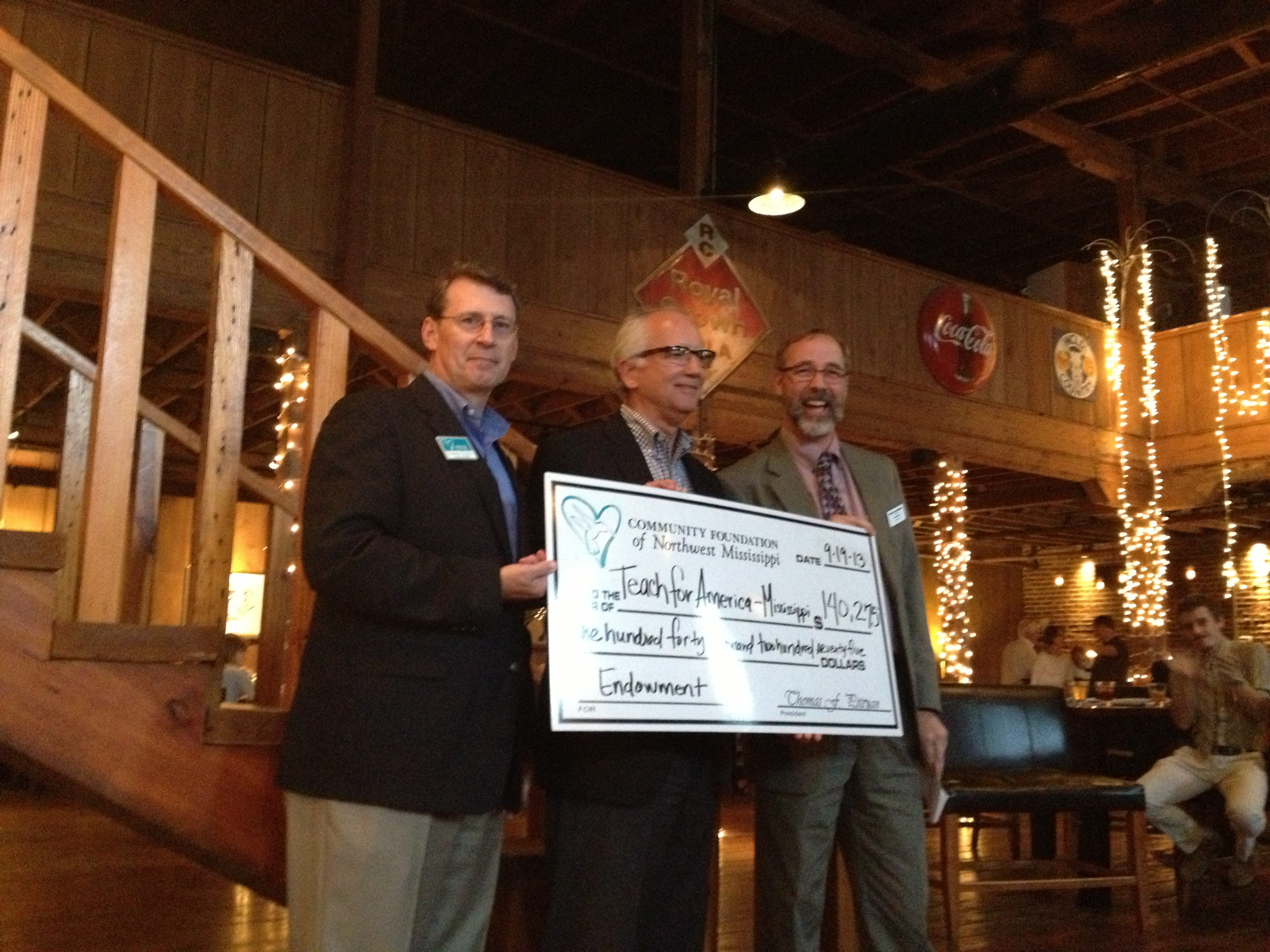 Teach For America-Mississippi's vision is simple: One day, all children in Mississippi will have the opportunity to attain an excellent education. 
To reach this vision, Teach For America-Mississippi focuses on eliminating educational inequity in our state by recruiting, developing and supporting leaders committed to creating change and opening doors of opportunity to students across the state.  This year, they have 299 first- and second-year members teaching more than 25,000 students in 23 Delta school districts.  There are an additional 150 alumni continuing to live and work in Mississippi, bringing the total size to over 500 individuals working every day for educational equity in the Delta.
Tom Pittman, president of the Community Foundation of Northwest Mississippi, presented a $140,275 check to further the efforts of Teach For America-Mississippi, growing the organization's endowment held in the regional foundation to $1,065,000.
"The Community Foundation of Northwest Mississippi and Teach For America-Mississippi are partners in working to ensure all children have access to an excellent education in our state.  We believe great teacher talent is a foundational economic boom to our region of our state," Pittman said.
Pittman presented Teach For America-Mississippi executive director Ron Nurnberg the matching grant check at The Warehouse in Cleveland, before approximately 50 business, education and community leaders in Cleveland.
"Endowments are a powerful charitable tool to improve the quality of life in our region.  Donor gifts are preserved and provide a perpetual stream of charitable dollars for a specified need or interest," Pittman stated.  The Community Foundation of Northwest Mississippi will match all approved endowment funds housed in the foundation at a 25% rate between now and the end of 2013.
Teach For America-Mississippi's endowment was started in 2008 in memory of David Halberstam, a nationally-renowned journalist and author with Mississippi roots.  Annually, up to five percent of the endowment earnings may be used to support great teaching in Mississippi.
"We believe all students in Mississippi can learn and be successful and our 375 Teach For America teachers are demonstrating this alongside veteran teachers in our school district partnerships.  Socio-economic status and historical underperformance does not have to limit our Mississippi children," said Nurnberg, who has led the region since 1996.
"The Community Foundation of Northwest Mississippi is helping us close the student achievement gap through effective investment in human capital," Nurnberg added.
Teach For America-Mississippi began in 1993 and now partners with 27 Mississippi districts, mostly in the Mississippi Delta region.  The 375 teachers serve approximately 32,000 students annually.  Teach For America-Mississippi receives private support from individuals, corporations and foundations, and public support from local school districts and the state of Mississippi.
Including the Teach For America-Mississippi Endowment, the Community Foundation manages 133 donor-established funds and has distributed $11.2 million to support 420 charitable organization and activities recommended by its 4,000-plus donors.  Established in 2002 with a generous grant from the Maddox Foundation, the Community Foundation is an independent 501.c.3 charitable organization with priorities for health and education.  The Foundation, which now has assets of $13.7 million, serves Bolivar, Coahoma, DeSoto, Marshall, Panola, Quitman, Sunflower, Tallahatchie, Tate and Tunica counties.  A board of 19 volunteer civic leaders governs the Community Foundation.  You can learn more about the Community Foundation at www.cfnm.org or 662-449-5002.
For more information on Teach For America go to www.teachforamerica.org.