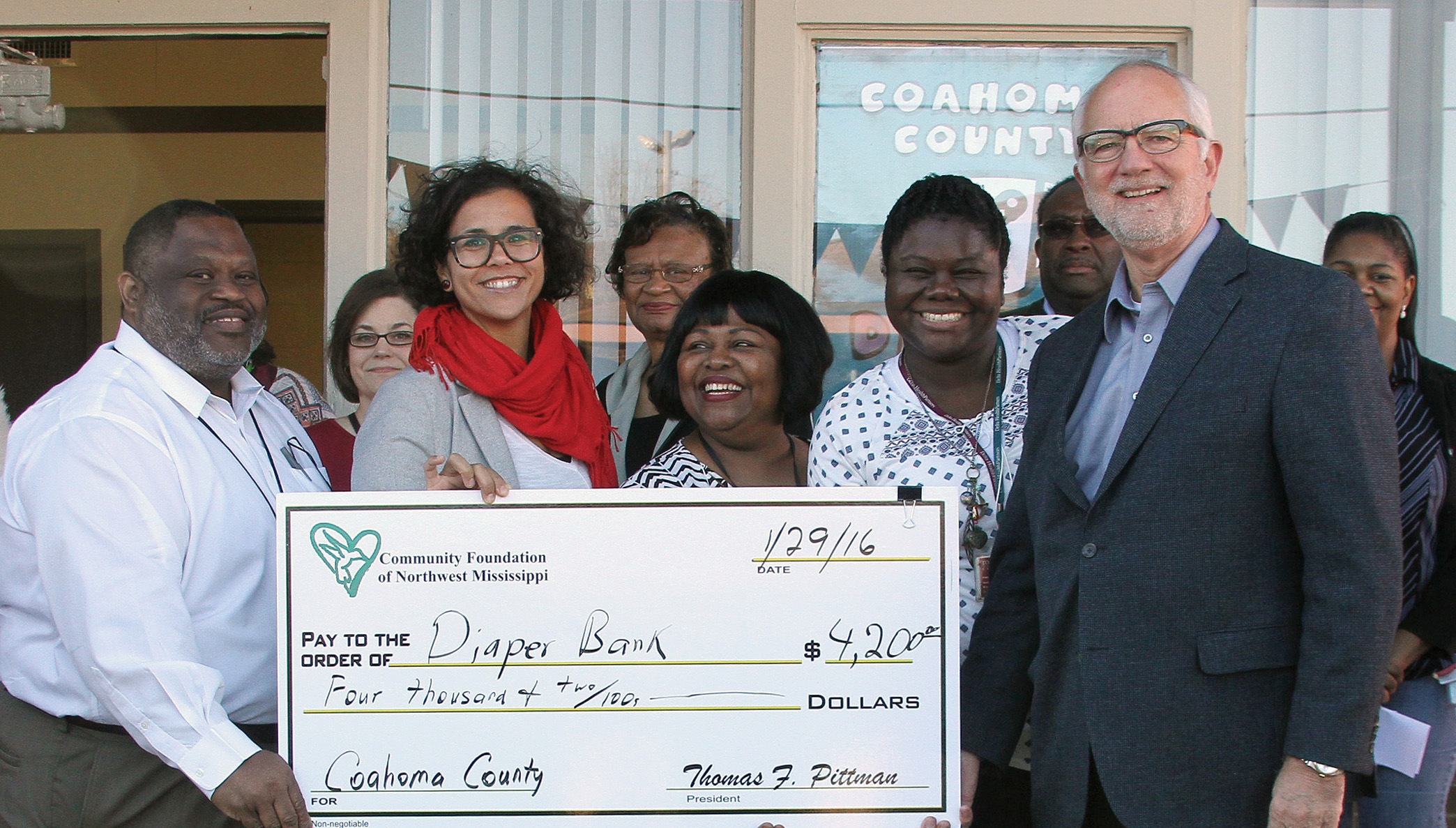 On Friday, the Coahoma County Diaper Bank opened its doors at a ribbon ­cutting ceremony at its new facility at 651 Evelyn St.
The diaper bank is a collaboration of several health organizations, including Aaron E. Henry Community Health Services, Tougaloo College Delta HealthPartners Healthy Start Initiative and Coahoma Opportunities, Inc. The Community Foundation of Northwest Mississippi donated $4,200 for the diaper bank's pilot year.
Billy Martin, president of the diaper bank, which is in a building renovated by AEH, is designed to help low ­income families by providing them diapers and formula. Each family can get supplies once a month, he said.
"What we do is we offer that service to them where we can fill in for them for a month," Martin said. "It's not a giveaway or something they can depend on every month; it's just a help up."
The diaper bank is working on collaborations with Coahoma Community College and other local entities to help parents with everything from parenting classes to information about how to further their own education.
"We have our other services like education facilities, we can hook them up with getting their GED, or finding services like lactation equipment," Martin said. "Chelesa Presley (with DeltaHealth Partners) offers services to our parents such as parenting classes, father mentoring classes, lactation classes, safety seats and the education that goes along with it."
The bank will be open Mondays and Fridays from 10 a.m. to 2 p.m. It's run entirely by volunteers, and includes a reading corner for kids to come in and read and the volunteers are collecting clothes, toys, books and financial contributions so that the bank can become a one­stop shop for donated baby items.
Also, the diaper bank will help refer people to free tax­filing services through Coahoma Opportunities as well as help families who qualify enroll in Obamacare.
"We're getting together with WIC and make sure they're aware of WIC, and United Healthcare is going to help us get them enrolled into Obamacare," Martin said. "If they don't have health care, we can feed them along the pipeline and make the transition from being uninsured to having some insurance, because a lot of them just don't know. If you make below the poverty line, especially for your household, there are a lot of credits out there for you, and we teach them how to do that."
He noted that anyone on Obamacare needs to file a specific form with their tax return, a lot of tax preparers that offer quick refunds can't process those forms anyway.
The diaper bank serves children ages 0 to 3 years old, and Martin said it's an entryway to the Head Start program, too. Also, Martin said they're working with the Boys and Girls Club, which will soon be working with the staff at the Expo Center.
Desta Reff, the vice president of diaper bank who works with low­income families through programs like Baby U, said part of their purpose is gauging the community's needs.
"We all deal with families and families in need in the county, and this was a way of centralizing that so we have a place for donations, to make it more efficient," Reff said. "The goal is to also have this be a referral point and we can refer them out to individual programs, and we can give assistance and everyone knows where we are and what we do."
Chelesa Presley, a certified lactation counselor with DeltaHealth Partners Healthy Start Initiative, said every quarter they have community action network meetings, and the diaper bank came about as a result of those meetings, which are open the public.
"This was our major project for 2016, and it's been a labor of love," Presley said. "We had a drive in May to raise supplies, and now this is our vision coming to light."
One of the goals in the near future is to offer breast pumps to mothers who have health coverage through BlueCross BlueShield, said Presley, who's a certified lactation counselor. Once the diaper bank has been up and running, a representative from BlueCross BlueShield will check out their facilities and, they hope, allow them to be one of the company's in­network partners for breast pumps. If approved, it would be the only one in the Delta, Presley said.
"So we get this diaper bank off the ground, then we can move to another level," Presley said.
Right now, the diaper bank is accepting contributions of all kinds, including baby clothes, age-appropriate books, formula, diapers, wipes and money. The financial contributions are important, because not every baby is on the same kind of formula, so if a mother comes in needing help feeding her young one, they can help her get the right formula. All donations will be accepted at the diaper bank.
Also, car seats are needed. Presley said she's also certified to check out car seats and any seat donated to them will be checked to make sure it's not expired or recalled and has all its parts.
For more information, email coahomacountydiaperbank@gmail.com or stop by the bank at 651 Evelyn St. by the hospital.
Rebekah Yearout is the managing editor for the Press Register and can be reached at 662­627­2201 or at news@pressregister.com.