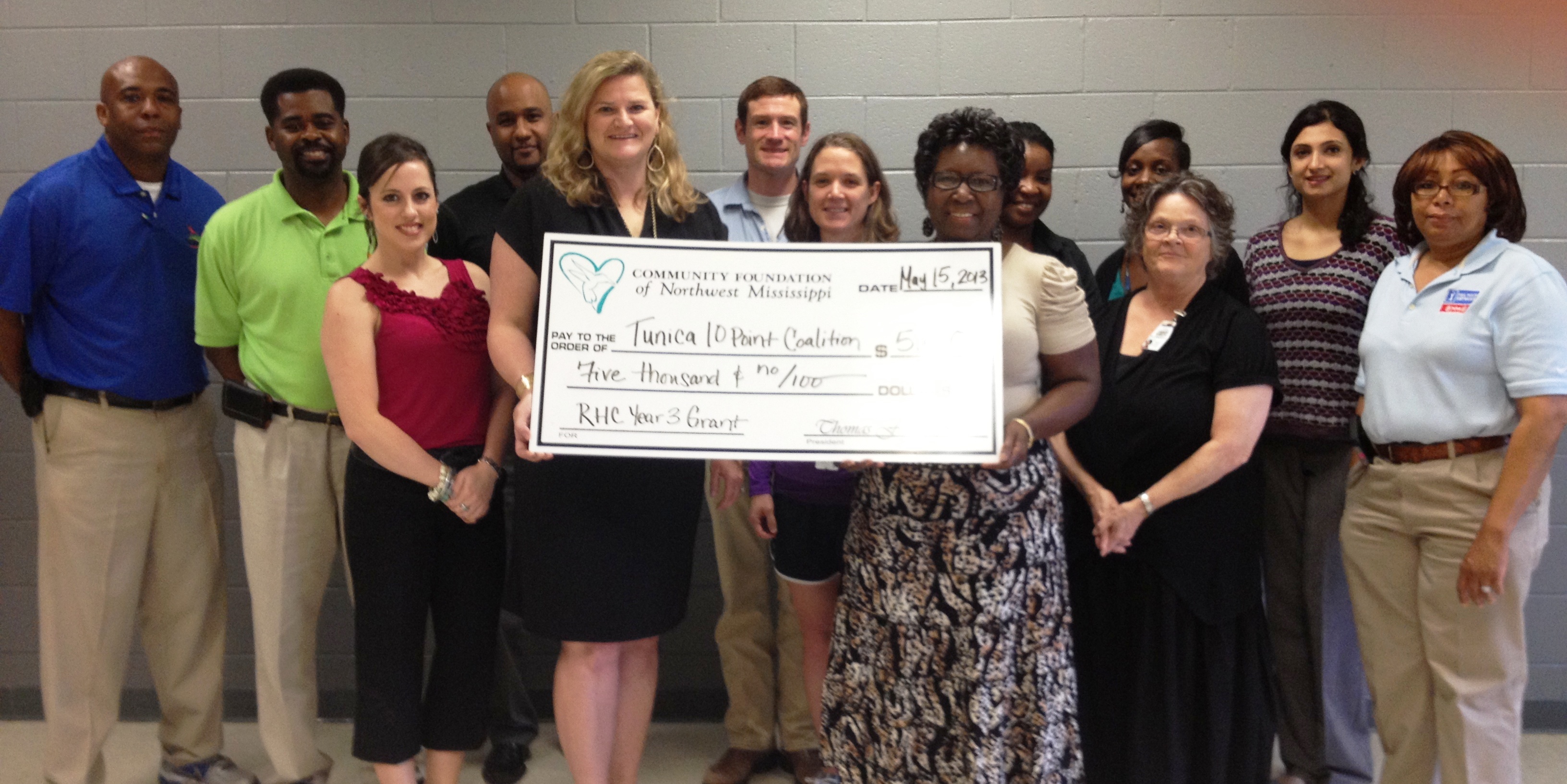 Tunica 10 Point Coalition, Inc. was presented a $5,000 grant from the Community Foundation of Northwest Mississippi.  The funds are through the Community Foundation's Regional Health Council, a component of the Get A Life! program to prevent childhood obesity.   The Coalition was one of seven organizations receiving a grant this year.
Tunica 10 Point Coalition, Inc. will continue its work with the Combating Obesity Intervention Program (COIP).  The past year, the organization worked with the entire county and the faith-based community to provide health awareness.  130 individuals participated and they are hoping for more this year.  By continuing this program, the Coalition will be able to help participants continue to reach their goal, assess the impact, and establish sustainability for health. 
"Tunica 10 Point is excited to continue to serve the community with the assistance of the Community Foundation of Northwest Mississippi grant we received", said Reverend Evelyn Hubbard.  "We will play a very important role in improving the health of families by providing basic knowledge on nutrition, healthy living and exercise programs to reduce obesity in Tunica County. We appreciate the support and generosity of the foundation and look forward to another successful year of COIP". (Hubbard)
The participants in COIP will benefit by participating in group physical activity, nutritional and exercise behavior classes, individual exercise prescription, and community-based nutritional and activity classes.  Partners with COIP are Tunica County Recreation Commission, Boys & Girls Clubs of the Mississippi Delta (Tunica Club) and Mississippi State University Extension Services (4-H program). 
"Tunica 10 Point Coalition, Inc. is providing a worthy program to the residents of Tunica County," said Campbell Melton, Community Foundation of Northwest Mississippi Board Member.  "They are not only bringing health awareness to the community, but also impacting individuals that have not had the opportunity to be physically active.  We need to see Mississippi's health rankings improve and Tunica 10 Point Coalition is part of that process."
The Regional Health Council is funded by a grant from the W.K. Kellogg Foundation of Battle Creek, Michigan.  The Foundation, established in 1930 supports children, families and communities as they strengthen and create conditions that propel vulnerable children to achieve success as individuals and as contributors to the larger community and society.  For further information on the foundation, please visit www.wkkf.org.
The Community Foundation of Northwest Mississippi is an independent not-for-profit organization founded in 2002 that serves eight Mississippi counties: Coahoma, DeSoto, Marshall, Panola, Quitman, Tallahatchie, Tate and Tunica.  CFNM is governed by a board of 20 volunteer civic leaders and impacts the communities of Northwest Mississippi by connecting people who care with causes that matter. CFNM currently manages 133 donor-established funds and has distributed $11.2 million to support 420 charitable organizations and activities recommended by its donors, as well as charitable programs established by CFNM.   The Maddox Foundation has made a Challenge Grant to the Community Foundation to match 100% endowment contributions through 2013.   Learn more about the Community Foundation at www.cfnm.org.