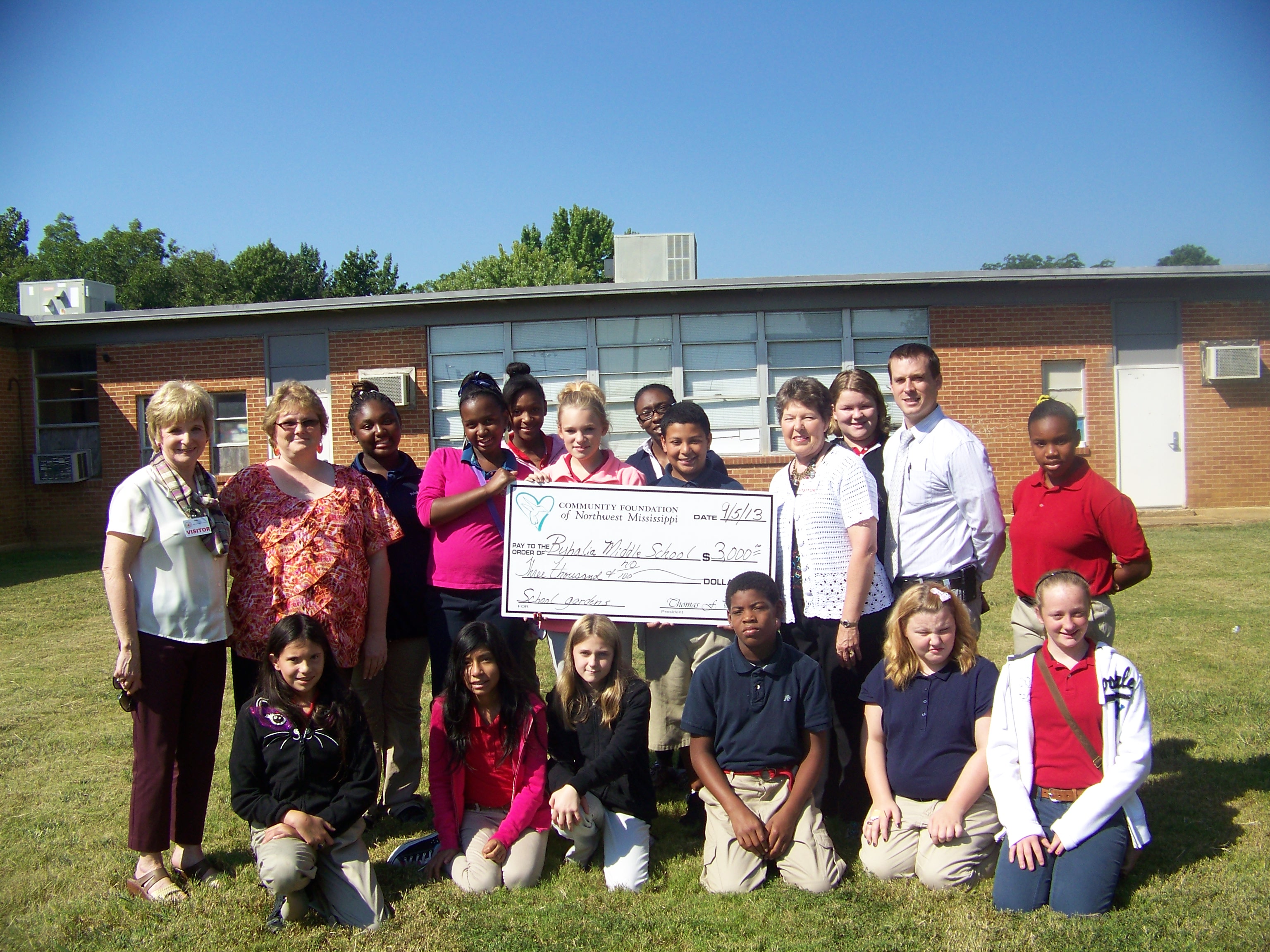 Byhalia Middle School received $3,000 in grants funds from the Community Foundation of Northwest Mississippi to cultivate a community garden.  This is a project of the Bluejays Junior Garden Club in conjunction with the Byhalia Garden Club.  "We are extremely grateful and excited about the generous contribution from the Community Foundation", stated Landon Pollard, principal.  "We feel like their contribution allows us to create so many more learning opportunities for our students.  We fully expect that this gift will help our students expand their knowledge of their gardening in their community, and it will help them grow in their journey to becoming great citizens of Byhalia".
The Bluejays Junior Garden Club was organized in 2012 with sixteen students and meets the third Thursday of each month.  Their mission includes planning and implementing projects that beautify and protect the environment, stimulating the knowledge and love of gardening, and developing skills for conservation. 
"With the generous assistance and grant from the Community Foundation of Northwest Mississippi, the dream of a children's community garden at Byhalia Middle School has become a reality for The Bluejays Junior Garden Club", said Jan Sisk, Byhalia Garden Club President.  "The children are eager to get this project underway.  They are excited about growing their own food which will provide healthy meals for them and their families."
The grant funds will allow the school to purchase building supplies for the raised beds and seeds/plants.  The Junior Garden Club will be responsible for planting, caring for, harvesting, and ultimately selling its vegetables, hopefully, through a Spring Farmers' Market.  When the seventh grade members were asked why this project was important to them they responded; "because it helps Mother Nature and I want to be healthy", said Perpheft Hearn; "We want to make a difference…it's about going green", said Shaquala Norman.
"The Community Foundation has focused time and money on healthy eating and active living projects  for the past few years.  We see this partnership between the middle school and garden club in creating a community garden a real opportunity to expand the awareness of eating locally grown produce", said George Cossar, Community Foundation Board Chairman.
The Community Foundation manages 133 donor-established funds and has distributed $11.2 million to support 420 charitable organizations and activities recommended by its donors, as well as charitable programs established by the foundation.  Established in 2002 with a generous grant from the Maddox Foundation, the Community Foundation is an independent 501.c.3 charitable organization. The Foundation serves Bolivar, Coahoma, DeSoto, Marshall, Panola, Quitman, Sunflower, Tallahatchie, Tate, and Tunica counties.  A board of 20 volunteer civic leaders governs the Community Foundation.  Learn more about the Community Foundation at www.cfnm.org or call 662.449.5002.