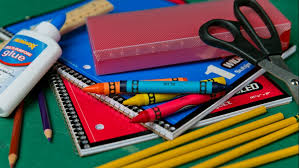 The Community Foundation's Box Project connects hundreds of Delta residents in poverty with mentoring sponsors from 46 states. Going back to school can be quite a challenging time for these Box Project families. They have the challenge of acquiring school uniforms and school supplies for the upcoming year.
You can help make a difference by sponsoring a family for back to school. Consider how  your short-term sponsorship can make this  year successful as schools start back in early August.
How to become a "Back-to-School" Sponsor?
Sign up online at www.boxproject.org
Select "What You Can Do"
Select "Family Sponsor"
At bottom of the page, select "Click Sponsor membership dues are $50 per year."
Select "New Sponsor Membership Form" and complete the form with your information.
Annual Membership select "Back to Sponsor" or "Winter Holiday"
Submit $50 Annual Membership Fee or for Current Sponsors submit $35.00 Additional Family Fee
Select a family from the information The Box Project will email to you.
Pack a Box and have Fun communicating with your new Box Project Friend!