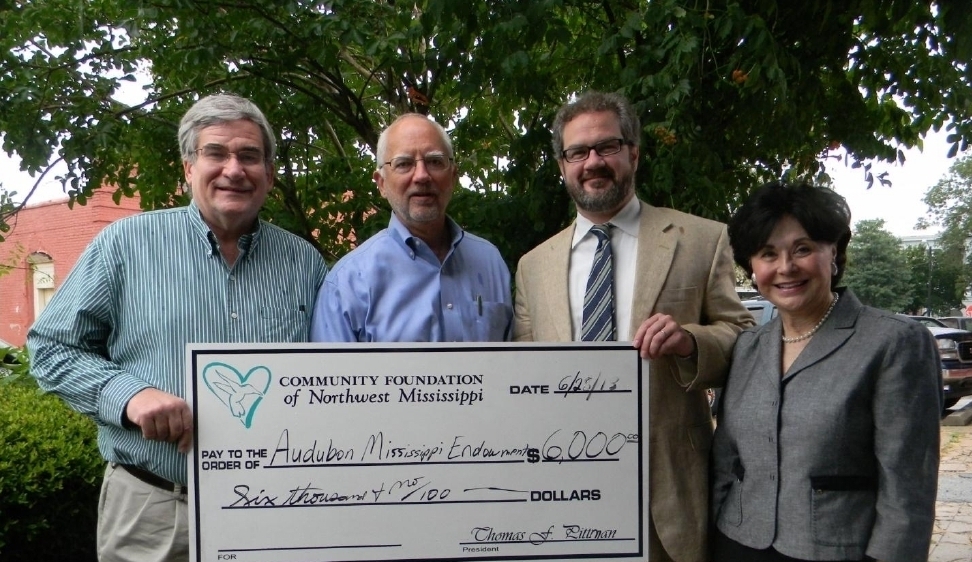 Audubon Mississippi established an endowment at the Community Foundation of Northwest Mississippi, and now the Foundation is adding 25 percent to the endowment, thanks to a matching grant from the Maddox Foundation. 
"Those of us doing work in northwest Mississippi are extremely fortunate to have two such wonderful foundations committed to enhancing the quality of life in the region.  We are delighted that both foundations appreciate and support Audubon Mississippi's efforts to educate and share with the public the importance of conserving and nurturing our environment for the benefit of birds, other wildlife, and people," said Jay Woods, Vice President of Audubon Mississippi. "These funds will support our Strawberry Plains Audubon Center in Holly Springs where we maintain 3,000 acres and engage over 10,000 visitors and students annually."
Strawberry Plains Audubon Center near Holly Springs offers a 3,000 acre habitat to provide the public with numerous educational options including: 15 miles of hiking trails, native gardens and wildflowers, restored forests and grasslands, ponds and ephemeral pools, native plant nursery, wildlife viewing areas, and the Annual Hummingbird Migration Celebration.
Lanier Hurdle, Maddox Foundation Board Member, added, "The Maddox Foundation is proud to support the work of the Audubon society."
The Maddox Foundation, which is in Hernando, has made grants and investments to support programs in education, human and social services, health care, conservation, and religion.  The Foundation also supports the development of philanthropic assets and the capacity of nonprofits to serve communities and causes across the region.
"Strawberry Plains brings great value to our region. Our community foundation is pleased to add part of our matching grant from the Maddox Foundation to the endowment for this excellent organization. Our foundation will hold it strictly for the benefit of Audubon educational programs in Mississippi," said Tom Pittman, President of the Community Foundation of Northwest Mississippi. 
Audubon Mississippi supports many bird and habitat conservations.  They have five chapters and two centers across the state.  The two centers, located in Holly Springs and Pascagoula, are habitat and wildlife sanctuaries.  They also offer a wide range of educational programs at each location. 
The Community Foundation of Northwest Mississippi is an independent not-for-profit organization founded in 2002 that serves eight Mississippi counties: Coahoma, DeSoto, Marshall, Panola, Quitman, Tallahatchie, Tate and Tunica.  CFNM is governed by a board of 20 volunteer civic leaders and impacts the communities of Northwest Mississippi by connecting people who care with causes that matter. CFNM currently manages 133 donor-established funds and has distributed $11.2 million to support 420 charitable organizations and activities recommended by its donors, as well as charitable programs established by CFNM.   The Maddox Foundation has made a Challenge Grant to the Community Foundation to match 100% endowment contributions through 2013.   Learn more about the Community Foundation at www.cfnm.org.