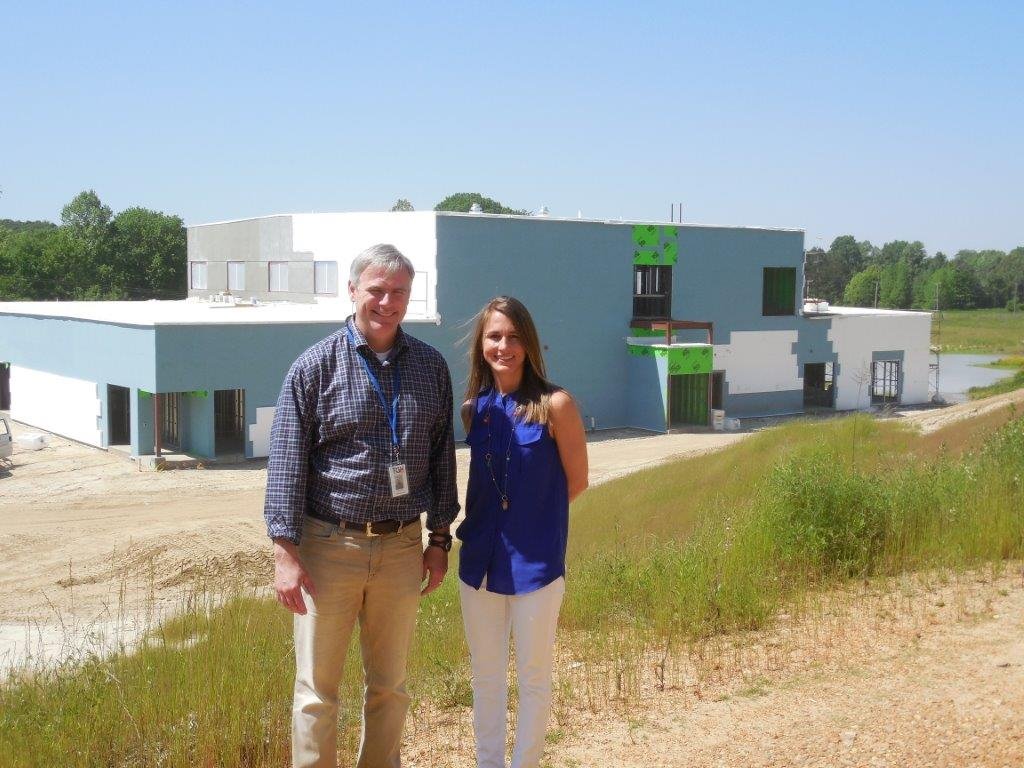 Three years ago, University of Mississippi alum Dr. Catherine Woodyard sparked a change for Charleston, a town afflicted by high rates of chronic diseases including obesity, hypertension and diabetes.
As a doctoral student at the University of Mississippi, Woodyard conducted a comprehensive health needs assessment for Charleston as her dissertation project with the intention of identifying priority health concerns and needs as well as to identify strengths of the community and existing organizations and resources that could be used to enhance health in the community. The results of the assessment were subsequently used to obtain external funding for projects and resources to improve the health status of the community. Following the assessment, and based on identified needs, Woodyard and Tallahatchie General Hospital (TGH) administrator, Jim Blackwood wrote a grant that secured over $2 million from the James Cox Kennedy Foundation for the construction of a community health and wellness center. The projected completion date for the wellness center is November of this year.
What led her to achieve so much for Charleston? "Well, this is a hard one to answer," Dr. Woodyard said. "So many people and things had a role and were an inspiration to me. I would say first and foremost, Dr. Meek was instrumental in this project as he was the one who initially told me about Charleston and invited me to come with him to Charleston to speak with community members which ultimately led me to realizing, before we can do anything, we need to hear from the people and conduct a needs assessment."
She said the needs assessment was her first step to understanding the community so she asked people face-to-face in interviews and focus groups what they felt they needed. Dr. Woodyard recalled reading a book, When Helping Hurts, where she learned this: "How will you ever know what the people need if you do not ask them?" This was also instrumental in gaining community trust, participation and engagement.
Dr. Woodyard also credits her professors who instilled confidence in her endeavors as well as taught her the skills necessary to complete the needs assessment and write grants: Dr. Jeff Hallam, her advisor whose leadership and mentorship have been instrumental to her work, as well as Dr. John Bentley, Dr. Saramona Przybyla, Dr. Dwight Waddell and Dr. John Green.
She didn't forget her mother: "My mom has always been my biggest cheerleader and my biggest supporter. I would have never been able to do what we have done without her unconditional love and constant support."
With this immense reservoir of love and mentorship, Dr. Woodyard is prepared to help and to enable Charleston residents to improve their health, wellness and overall quality of life. The Wellness Center is located on the TGH campus downhill from Charleston Rural Health Clinic and Extended Care Facility.
The Wellness Center includes space for group fitness in a multi-purpose room as well a fitness area equipped with free weights, weight machines and cardio equipment as well as an indoor walking track in addition to an outdoor walking track that will open to the public soon. The Wellness Center also has a kitchen and classroom space that will be used for educational programs as well as for events and trainings.
The Wellness Center will house outpatient physical therapy and occupational therapy as well as the Intensive Outpatient Psychotherapy (IOP) behavioral health program called "Horizons."

Dr. Woodyard with colleague Dr. Adole Muruako, Ph.D., wrote a grant to Health Resources and Services Administration (HRSA) for the Rural Healthcare Outreach Services program last fall, and they recently received notice that they got the grant and were awarded a little over $550,000 over the course of three years. Dr. Woodyard said this grant will be used for most of the center's programming and efforts launched under the umbrella of Tallahatchie Wellness.Dr. Woodyard said, "I have always loved community service-type work and enjoyed being around people and helping them reach their full potential whether it was teaching in the classroom or working with community residents… So many people are unaware of how to take responsibility for their health and engage in behaviors that are health-promoting. I feel so blessed to be in a position where I can educate people on how to live healthier, happier lives and be able to provide resources and opportunities for them to do so."
The new center and staff will host the annual Wellness Challenge (a 3-month weight loss and health challenge modeled after the biggest loser), a chronic disease self-management program and diabetes self-management program and a clinic referral program where patients with chronic conditions or weight issues are referred to the wellness center from the clinic for additional patient counseling for exercise plans, nutrition plans, disease self-management and prevention strategies along with various forms of health counseling.
"We are only as happy as we are healthy and health is our greatest form of wealth," said Dr. Woodyard. "I saw an incredible opportunity here in Charleston, given the poor health status and pervasive rates of chronic disease to bring resources for health promotion and disease prevention and to attempt to alleviate the health concerns and help people improve their health and wellness and in turn, overall quality of life."
Woodyard also states that none of this would have been possible without initial funding for her needs assessment from the Community Foundation of Northwest Mississippi as well as the help from the Charleston Arts and Revitalization Effort (CARE) and namely their former executive director Glenna Callendar, as well as the participants in the needs assessment.
Woodyard is currently writing grants and initiating a fundraising campaign in attempt to raise $150 thousand for a playground on the hospital campus. The playground will accompany an outdoor walking path and the wellness center. There is currently only playground in the community and it in poor condition and is not always available to the public, as it located at the elementary school.
She envisions the wellness center campus to be a park-like setting and a place of recreation and socialization for the community. Currently, there is no such place in the community as there are not any parks, walking paths or public playgrounds.
Woodyard obtained her Masters in health promotion in 2009 as well as her doctorate in health and kinesiology with an emphasis in health promotion and behavior in 2013 from the University of Mississippi. Woodyard currently serves as the Executive Director of the James Cox Kennedy Wellness Center as well as the Project Director for Tallahatchie Wellness.
For more information about this project or if you are interested in donating funding to their most recent playground project, Woodyard can be contacted at cwoodyard@mytgh.com. All donations are tax deductible.
Callie Daniels is a staff writer/reporter at HottyToddy.com. She can be reached at callie.daniels@hottytoddy.com.