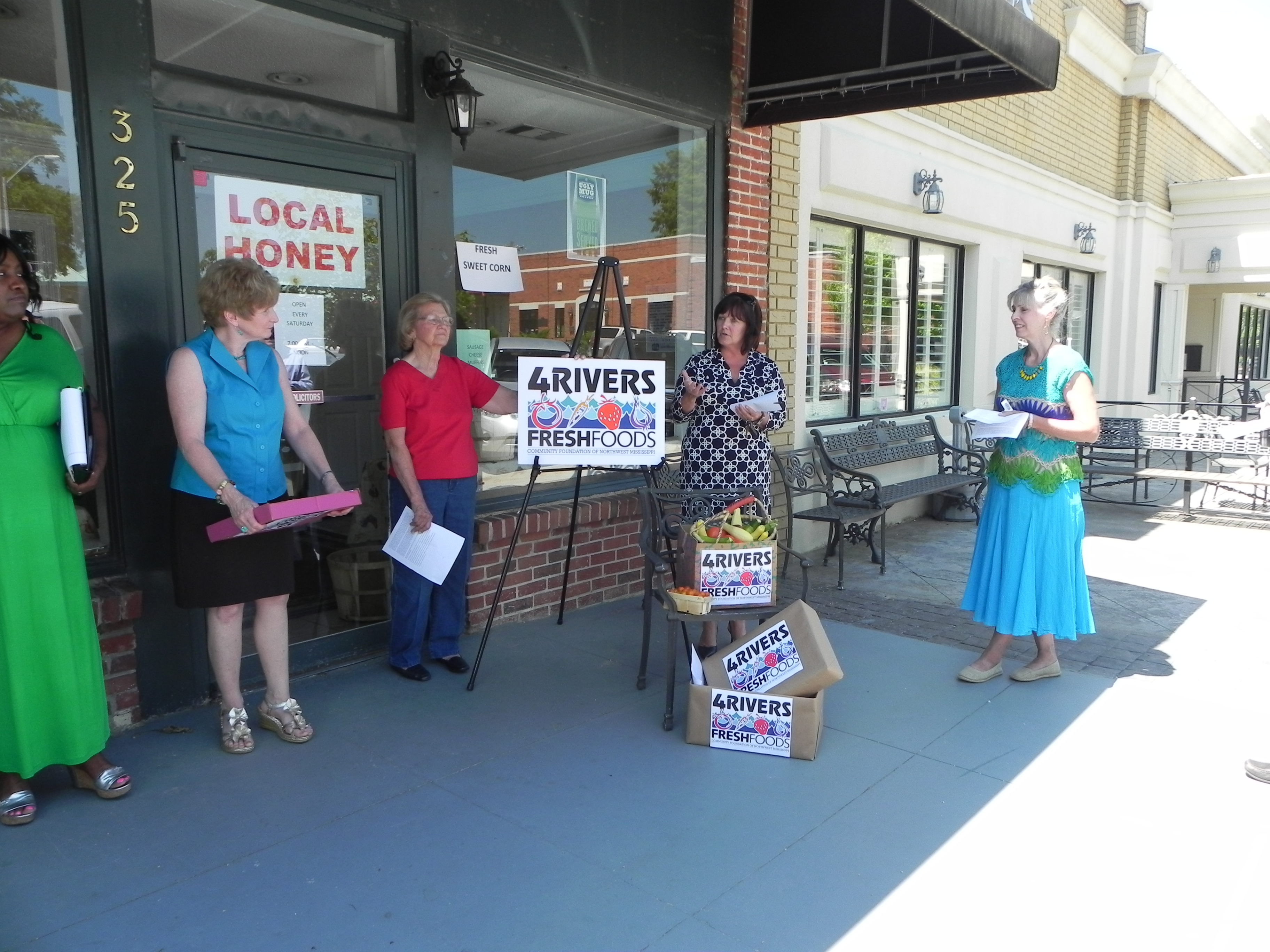 4 Rivers Fresh Foods will provide a convenient way for residents to buy locally grown and produced food.  A project of the Community Foundation of Northwest Mississippi, the food hub will aggregate, distribute and market locally grown food. 
"The idea for a regional food hub started in 2006 as the community foundation's board made childhood obesity prevention a priority", stated Tom Pittman, President of the Community Foundation.  "One thing we found out through focus groups was that access to healthy, affordable food was a problem throughout our region."  This year the community foundation's board voted to provide initial funding for a food hub through the foundation's Endowment for the Future of Northwest Mississippi, a fund established with the support of the W.K. Kellogg Foundation, Maddox Foundation, and dozens of local businesses and individuals.
The food hub is an outgrowth of the policy and environmental change work through the Robert Wood Johnson Foundation's Healthy Kids Healthy Communities grant and the W. K. Kellogg Foundation's grant for the Regional Health Council.   One of the Council's strategic plans is to make healthy foods more accessible and affordable.  The community foundation's Community Development Director, Peggy Linton, has been working with Shelly Johnstone, consultant, on researching best practices for food hubs and visited successful models from New Orleans and Louisville to Rhode Island.  Johnstone developed the proposal and initial budget that has become 4 Rivers Fresh Foods.
Margaret Yates will be the first food hub manager.  To buy local foods from 4 Rivers Fresh Foods,  customers pay for a large or small box of seasonal fruits and vegetables ($25 for large and $15 for small) by Monday of each week at 5:00 p.m. and receive the box at a designated pick up point on Wednesday of that same week.  They can also add other products like milk from the Brown Family Dairy Farm, and cheese, butter and yogurt as it is available, as well as eggs.  The initial pick up point will be in Hernando.  At the first pick up, customers receive a reusable box. Those who purchase protein items should bring a cooler with them to the pick-up point.  Each week after that, the customer will turn in the empty box and take home the full one from that weeks offering.  4 Rivers Fresh Foods will make its first delivery to the first 25 who sign up for the pilot project and pay the $10 initial membership fee on July 26th.  At the end of the pilot project (about 3 weeks), the membership will be open to others.  Fresh fruits and vegetables will continue for 15 weeks, and protein items, like milk will be available all year.  The initial farmers in the pilot project are Steve Richardson of Tate County, Michael Hawks of DeSoto County, Homestead Farms of Tate County and Brown Family Dairy Farm of Lafayette County.
Regional Food Hubs, like 4 Rivers Fresh Foods, are popping up all over the country.  The USDA notes that there are almost 250 hubs in the US right now.  A regional food hub is a business or organization that actively manages the aggregation, distribution, and marketing of source-identified food products primarily from local and regional producers to strengthen their ability to satisfy wholesale, retail, and institutional demand. While 4 Rivers Fresh Foods is starting with a retail focus, it will certainly have the ability to service more institutional customers, like small restaurants, as well.  Mississippi has two hubs listed with the USDA, the Ocean Springs Fresh Market and the Indian Springs Farmer Cooperative Association in Petal.
Persons interested in subscribing to 4 Rivers Fresh Foods can call Margaret Yates at 901.326.1627 or email at 4rivers@cfnm.org.      
The Community Foundation manages 133 donor-established funds and has distributed $11.2 million to support 420 charitable organizations and activities recommended by its donors, as well as charitable programs established by the foundation.  Established in 2002 with a generous grant from the Maddox Foundation, the Community Foundation is an independent 501.c.3 charitable organization. The Foundation serves Bolivar, Coahoma, DeSoto, Marshall, Panola, Quitman, Sunflower, Tallahatchie, Tate, and Tunica counties.  A board of 20 volunteer civic leaders governs the Community Foundation.  Learn more about the Community Foundation at www.cfnm.org or call 662.449.5002.